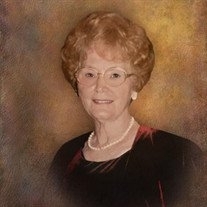 Mildred Elizabeth "Millie" Womble, age 98, of White Plains, Maryland (formerly of Cameron, North Carolina), died September 9, 2018 at the University of Maryland Charles Regional Medical Center.

In her early years, Mildred worked at various positions in her hometown in North Carolina, including Librarian at Massey Hill High School. After her marriage to George Peterson at age 21, she moved to Washington, DC where she held a short-term clerical position with the United States Government. Ultimately, Millie retired in 1980 after 30 years of service as clerk/typist and receptionist at the International Union of Plasterers and Cement Masons, AFL-CIO, located in Washington, DC.

Amazingly and all the while, Mildred was the loving and devoted mother to her three children, always keeping her dedication to her church as a primary focus for herself and her family. Over the years, Millie became an accomplished seamstress and poet, for which she received countless awards. After retirement, Mildred enjoyed traveling (including missionary trips to Israel and Haiti), sewing, scrapbooking, and spending as much time as possible with her family and church activities. At age 92, she married George "Mack" Womble.

She was the daughter of Robert Henry Keel and Nina Emerson Gough Keel. In addition to her parents, she was also predeceased by her husbands, George Peterson, George Holmes, Earl Rigsbee, and George "Mack" Womble; her brothers, Paul Keel and Hermas Keel; and her sisters, Maltie Suggs and Viola Stewart. She is survived by her son, Gerald Peterson; her daughters, Nina (Peterson) Davis and Barbara (Peterson) Canter; and seven grandchildren; 16 great grandchildren, and four great-great grandchildren.

Friends received on Monday, September 24, 2018 from 9:30AM until time of Funeral Service at 11AM at Raymond Funeral Service Chapel, 5635 Washington Avenue, La Plata, Maryland 20646. Interment to follow at Trinity Memorial Gardens, 3221 Mattawoman-Beantown Road, Waldorf, Maryland 20601. Memorials are asked to Falcon Children's Home, 7569 N West Street, Falcon, North Carolina 28342.