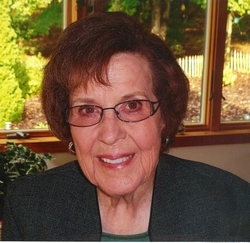 Mary Jane Collins passed away at home with her family on September 10, 2018 after a long bout with Alzheimer's. A lifelong resident of Calvert County, she was born on the family farm in Sunderland and graduated from Calvert High School in 1952.

She was preceded in death by her parents James Russell Hardesty and Mary Eleanor Marquess Hardesty and siblings Lillian, James and Maurice Hardesty. She is survived by her husband of 35 years Ronald Collins, her sister Elsie Mae Buckmaster, her children Sundra Cherrico (Andy), Richard Cox (Lynda), Brenda DiMarco (Larry), 8 grandchildren and 13 great-grandchildren.

She was a member of Huntingtown United Methodist Church and enjoyed participating in church activities. Arrangements by Rausch Funeral Home.