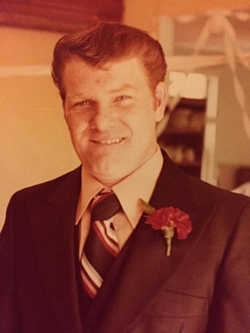 Edward L. Swann, 72, of Newburg, MD passed away at home on September 12, 2018. Born January 26, 1946 to the late Wilson E. Swann and Dorothy A. Wise. Edward Lee was a carpenter and waterman whose hobbies included woodworking, gardening and boating. He loved his dogs and cats, and his morning cup of coffee. He was a member of Holy Ghost Catholic Church, and a sailor who proudly served his country in the U.S. Navy.

He was preceded in death by his parents, and his brother, Robert A. Swann. He is survived by his devoted wife, Ruth C. Swann; sisters, Sharon Macaranas (Glen), Diane Hardesty (Robert), Sandra Ferguson (Francis) and Theresa Simpson (Robert); as well as a brother, Richard Swann; an aunt, Polly Lowns; and several nieces, nephews and cousins.

The family will receive friends at Holy Ghost Catholic Church (15848 Rock Point Rd., Newburg, MD) on Wednesday, September 19, 2018 from 9AM until the time of Funeral Service at 11AM; Interment to follow in the Church Cemetery. Pallbearers: Brandon Simpson, Eddie Hardesty, Richard Swann, Kevin Ferguson and Ricky Bradshaw. Arrangements by Arehart Echols Funeral Home.