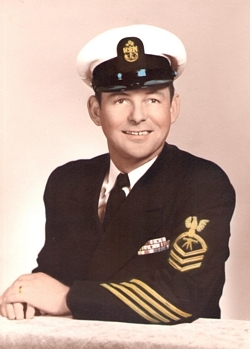 Paul Gastin Habig, 95, of St. Leonard, MD formerly of Millsboro, DE, passed away on September 12, 2018 in Dowell, MD. He was born in Brockton, MA on January 14, 1923 to the late Anna and Edwin J. Habig. He was the loving husband of Rosalie Habig whom preceded him is death in 1998 and Eunice McCready Habig whom preceded him in death in 2016.

Paul graduated from Brockton High School in 1939 and went on to join the United States Navy on November 12, 1940. He served honorably during WWII and the South Pacific War on the USS Louisville and retired on August 15, 1960. He went on to work as a Defense Contractor for Vitro Labs for 20 years, retiring in 1980. He moved to Calvert Co. in 1990 from Millsboro, DE. Paul was a member of the American Legion of Millsboro, DE, Fleet Reserve, and past member of the Germantown Lions Club. He enjoyed fishing, clamming, gardening, and golfing.

Paul is survived by his step-son, James Arlen Blaylock and his wife Joyce of Boonsboro, MD, three grandchildren, and six great grandchildren. He was preceded in death by his parents; wives, Rosalie and Eunice; one sister; and a step-son, Donald G. Blaylock.

Family will receive friends on Sunday, September 16, 2018 from 3:30 p.m. until 4:30 p.m. with a Funeral Service to follow at 4:30 p.m. at Rausch Funeral Home, P.A., 20 American Lane, Lusby, MD 20657. Interment will be on Monday, September 17, 2018 at 11:00 a.m. in All Saints Episcopal Cemetery, Harbeson, DE. Memorial contributions may be made to Calvert Hospice, P.O. Box 838, Prince Frederick, MD 20678. Arrangements by Rausch Funeral Home.