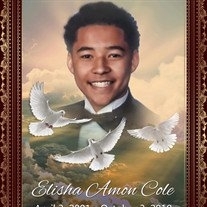 Elisha Amon Cole, age 17, of Waldorf, Maryland died October 3, 2018 in Waldorf, Maryland. He was the son of Timothy Cole and Rose M. Miller. In addition to his parents, he is also survived by his brothers, Raja, Joshua, Omir, and Nathan; his sisters, Shaina, Araya, Nevaeh, and Marissa Williams (step-sister). He was also predeceased by his step-brother, Lawrence Williams.

Amon was a Senior at Thomas Stone High School in Waldorf, Maryland and a member of New Life Wesleyan Church in La Plata. He enjoyed football, basketball, dirt bikes, and You-Tubing. He loved hanging with his friends and doing pranks on one another. He also loved his dog, Bella. Amon cherished his family and would do anything for them.

Friends received on Thursday, October 11, 2018 from 9:00 AM until time of Funeral Service at 12:00 PM at the New Life Wesleyan Church, 9690 Shepherd's Creek Place, La Plata, Maryland 20646 with Interment to follow in the church cemetery. Memorial contributions in Amon's name are asked to the Tri-County Youth Services Bureau (75 Industrial Park Drive, Waldorf, Maryland 20602) or New Life Wesleyan Church, by check only with "RIOT" in the Memo line (9690 Shepherd's Creek Place, La Plata, Maryland 20646). Arrangements by Raymond Funeral Service.