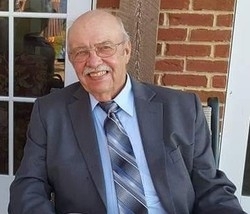 William Edward Sanner Jr., 72, of Lexington Park, MD passed away suddenly on Tuesday, October 2, 2018 at Medstar St. Marys Hospital in Leonardtown MD. Known as Eddie to his friends and family, Eddie was born July 11, 1946 in Leonardtown MD to the late William E. Sanner, and Leona Pegg Sanner of Lexington Park, MD. Eddie was a graduate of Great Mills High School and attended college in Baltimore, MD.

He was employed by the Department of the Navy at Patuxent River as a computer operator until he retired. Eddie had several interests: old cars, camping, auctions, crabbing, his garden, tinkering in his garage and in his earlier years, racing his stock car #97 at Potomac Speedway, Saluda, and Winchester. Eddie resided at Sanners Lake his entire life where he and his wife Linda Sanner raised their children. He was a member of the Fraternal Order of Police Lodge #7, Great Mills, MD for over 30 years. He was also a member of the Thomas J. Shyrock Masonic Lodge #223 in Hollywood, MD.

In addition to his wife Linda, Eddie is also survived by his children: Lucinda Durtche of Santa Maria, CA, William E "Billy" Sanner III (Vickie) of St Inigoes, MD, and Lauren Sanner of Lexington Park, MD; his grandchildren, Ted, Britney, Linsey, Nick Granada and Willam Edward "Will" Sanner IV; and great grandchildren Isaiah, Kyira, Atlas, Elijah and many extended family and friends. He is preceded in death by his parents.

Family will receive friends on Tuesday, October 9, 2018 from 11:00 a.m. to 1:00 p.m., with a Funeral Service celebrated at 1 p.m. by Reverend Joe Orlando, at Brinsfield Funeral Home, P.A. 22955 Hollywood Road, Leonardtown, MD 20650. Interment will follow at Ebenzer United Methodist Cemetery in Great Mills, MD 20653.

Serving as pallbearers will be Donald Strickland, Bruce Strickland, Richard Cline, Chris Morgan, Adam Dennis, and John Mattingly. Honorary pallbearer will be Robert Moss. In lieu of flowers, memorial contributions may be made by to Bay District Volunteer Fire Department, P.O. Box 1440, Lexington Park, MD 20653. Arrangements by the Brinsfield Funeral Home, PA.