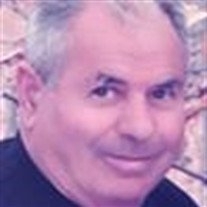 Gino Ricci, 84, of Owings, Maryland passed on Thursday, November 1st, 2018 surrounded by his loving family. Born in Bruzzi, Italy he was a son to Nicola and Giovina Ricci. He was the beloved husband of Barbara Ricci for sixty years until she passed in 2017. He spent much of his time caring for his faithful companions; his dogs, cat, goat, roosters, chickens, and finches. Gino found peace outdoors and tending to his garden.

Gino is survived by his four children; Gino Edward Ricci, William Ricci (Heidi), Gloria Lytton (the late Jeff Lytton) and Linda Chappell, eight grandchildren; Melissa, Sabrina, Rachel, Stephanie, Alice, Jacqueline, Jeffrey, and Edward, eight great-grandchildren; Jason, Bryce, Sophia, Andrew, Jordyn, Kylee, Paisley, Cruz, and several nieces and nephews. Gino is predeceased by three sisters.

In lieu of flowers, please send donations in Gino's name to the Humane Society of Calvert County; https://humanesocietyofcalvertcounty.org/products/donation-dollars-please-donate-as-many-dollars-as-you-choose-f15f1fa8-bac7-4cf7-8ebb-5129f3332985 (2210 Dalrymple Road, Sunderland, Maryland 20689). Arrangements by Lee Funeral Home.