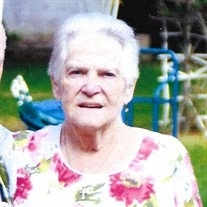 On November 1st, 2018 Audrey M. Schmitz, passed away from a short illness with her husband at her side. Audrey was born May 8th, 1940 in Tacoma Park MD to Arthur & Myrtle Worley. She enjoyed a career in retail sales were she met her husband. Audrey was married December 29th, 1977 to John P. Schmitz from Pomfret, MD where she made a home for her family and at one time sang in the choir at Potomac Heights Church.

Audrey had a passion for creating beauty, from her gorgeous gardens to her crocheting and quilting for family and friends. She loved collecting and antiquing and sharing her adventures and finds. Audrey enjoyed bowling and bunko with her husband and made many friends over the years. Audrey was generous to all who entered into her life and held strong to her faith.

Audrey is preceded in death by her parents. She is survived by her husband John P. Schmitz of 41 years, her immediate family including Effie & Jim Hardin, John & Kris Schmitz, William & Jayne Schmitz, Marti & Jonathan Cunningham, Joyce Schmitz & Debra Burrell, her grandchildren, Michael, Amber, David, Zachary & Crystal and her great-grandchildren Tia, Annalisia, Kya, Trinity & Kira, cousins and by many many close family friends.

Viewing will be held at Raymond Funeral Home, La Plata, MD November 12th, 2018 at 5:00pm, with a prayer service at 6:00pm. A Memorial Service will be at Cheltenham Veterans Cemetery on November 13th at 11:00am.

The family would like to thank her local physician, Dr. Jenkins, all the emergency staff at Med Star La Plata, a very competent staff and physicians at Med Star Washington, all the staff on 4F at Med Star Washington and all the staff at Charles County Hospice for all the excellent care provided to Audrey and her family. We appreciate everyone one of you.
Memorial donations may be made to Charles County Hospice of Waldorf, MD. "God saw that she was getting tired and a cure was not to be, so he put his arms around her and whispered, "Come with Me".