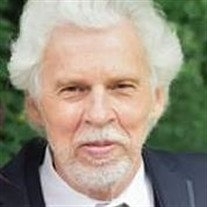 Gordon Douglas Weems was born on January 3rd, 1949 to Robert D. Weems and Betty Lee (Prout) Weems of Port Republic. He was a loving and devoted husband, father, brother, uncle, nephew, and son. He is survived by his wife, Eileen (Curran) Weems, daughter, Megan Betty Weems, his father, Bobby Weems, his uncle, Mason Weems, his brother, John Philip Weems, and various nieces, nephews, and cousins. He is proceeded in death by his mother, Betty Weems, his daughter Katherine Curran (Rossow) Martin, and his cousin Stuart Weems.

He graduated from Charlotte Hall Military Academy in 1967. He went on to get his undergraduate degree from Loyola College of Baltimore and his Masters degree from the University of Maryland School of Social Work. He began his career at Social Services in Calvert and Charles counties, before moving to Calvert County Health Department as the Director of Mental Health. He later, became the Core Service Agency Director for Calvert County, overseeing drug and alcohol programs as well as the mental health clinic. Throughout his career he received numerous awards and accolades for his dedication and service. This included being unofficially awarded "The Best Dressed Man in Prince Frederick".

Douglas was a true gentleman, a kind and intelligent man who was too good for this world. He never hesitated to help others in their time of need and lived his life to make his family happy. His kindness and generosity knew no bounds. In a world where forgiveness, kindness, and honesty had gone out of style, Douglas never went out of style. His family will honor and miss him every day.

Visitation will be Friday, November 9th at Christ Church in Port Republic from 10 to 11 am only. Mass of Christian burial will immediately follow visitation. Burial will be private. The repass will immediately follow the service. The family requests that in lieu of flowers, donations please be made to Christ Church in his memory. Arrangements by Lee Funeral Home.