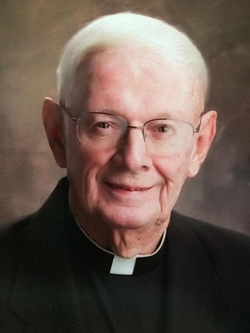 Father Joseph J. Kleinstuber, 86, known as "Father K", passed away peacefully at home on November 6, 2018. Born in Washington, DC on October 5, 1932 to the late H.C. Kleinstuber and Ellen Carey Kleinstuber, he is also preceded in death by siblings, Margaret Corbley and Jack Kleinstuber; niece, Maureen Corbley Splain; nephew, Michael Corbley; and great-niece, Jane Levey. Father K leaves behind to cherish his memory, nieces, Catherine Corbley Levey, Nancy Kleinstuber Carey, Suzanne Blake; and nephews, Kevin Corbley, Kevin Kleinstuber, Edward Kleinstuber and John Kleinstuber.

Father K was a Major in the Air Force. A native of Washington, DC, he graduated from Gonzaga College High School, received a Bachelor's Degree from Georgetown University and Master's Degrees from George Washington University and Catholic University. He attended Seminary at St. Vincent's in Latrobe, PA. During his career, Father K served as Associate Pastor at St. Anthony's Parish in Washington, DC, St. Andrew Apostle in Silver Spring, MD, Pastor at St. Mary's Parish in Barnesville, MD and St. Mary's Bryantown in Bryantown, MD, where he retired in June 2008. He also served as Dean of Charles County, as a Confessor for the Immaculate Heart of Mary Sisters, Vice President of the Catholic Board of Education and as a Chaplain in the Civil Air Patrol. During his long career, Father K taught at St. Andrew's, St. Anthony's High School and 25 years at St. John's College High School.

The family will receive friends on Friday, November 9, 2018 from 3PM to 8PM with a Vigil Mass starting at 7:30PM at St. Mary's Bryantown Catholic Church (13715 Notre Dame Place, Bryantown, MD) where a Funeral Mass will be celebrated on Saturday, November 10, 2018 at 10:30AM. Interment to follow in the Church Cemetery. In lieu of flowers, donations may be made in Father K's memory to St. Mary's Bryantown Catholic Church or Holy Ghost Catholic Church, Issue. Arrangements by Arehart-Echols Funeral Home.