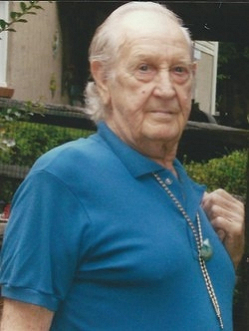 Robert Richard "Bobby/Hawk" Hawkins, 79, of Mechanicsville, MD, formerly of Crofton, MD passed peacefully on January 26, 2013 at Washington Hospital Center in Washington, DC. He was born on July 12, 1933 in Mt. Jackson, VA to the late Robert Johnson Hawkins and the late Nora Ellen (Clem) Hawkins.

Bobby was drafted into the Military with the U.S. Army in 1954 and served as a Field Artillery BN Gunner. After leaving the Military, he worked in his brother's ESSO gas station in Georgetown. Later he went to work as a Glazier for General Glass in Wheaton, MD. He then started his business Arrow Glass in Landover, MD. He was a member of the VFW.

Bobby loved going to Point Lookout State Park where he had property and would spend his weekends taking care of his huge vegetable garden. He loved fishing, camping, bowling, playing horse shoes and building things. ("He was the duct tape king") He was the life of a party or even just a gathering whether he was dancing, telling stories or jokes. He loved to just have fun with everyone. Bobby would make you smile and to know him was to love him.

In addition to his parents, Bobby was predeceased by 8 siblings.

Bobby is also survived by his beloved wife of 54 years, Gertrude Ethel "Nook" (Leizear) Hawkins of Mechanicsville, MD; 3 beautiful daughters/son-in-laws, Sharon Booker (Robert) of Charlotte Hall, MD, Barbara Livingston (Chuck) of Mechanicsville, MD, and Debbie Baker (Mike) of Boyce, VA; 8 grandchildren, Bobby, Shelley, Stacey and Cody Trahan of Charlotte Hall, MD, Samantha Livingston of Mechanicsville, MD, and Michelle, Theresa and Nicholas Baker of Boyce, VA; 4 great grandchildren; and 1 brother and 1 sister.

Family and friends will be received for Bobby's Life Celebration on Monday, February 4, 2013 from 2:00 PM to 4:00 PM and from 6:00 PM to 8:00 PM with a Funeral Service beginning at 7:00 PM at Brinsfield-Echols Funeral Home, P.A., 30195 Three Notch Road, Charlotte Hall, MD 20622. Interment will be on Wednesday, February 13, 2013 at 2:00 PM at Maryland Veteran Cemetery, 11301 Crain Highway, Cheltenham, MD 20623.

Memorial Contributions may be made to: DCVA Medical Center, Department of Veterans Affairs, Medical Center/Voluntary Services, 50 Irving Street, Washington, DC 20422, ATTN: Charlotte Hall Patient Clinic.

Arrangements provided by Brinsfield-Echols Funeral Home.