Hawkins, Jayvon Robert
Birth: 2005-11-29
Residence: Bryans Road, Maryland
Death: Thursday, August 04, 2011
Laid to Rest: Friday, August 12, 2011 in the Fort Lincoln Cemetery, Brentwood, Maryland
Condolences: Click to View or Post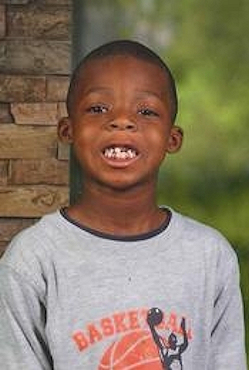 Hawkins, Jayvon Robert (Age 5) of Bryans Road, Maryland.

We are here today to celebrate the life of Jayvon Robert Hawkins, better known to his family and friends who loved him dearly as "Bookabok." He is the beloved son of Shevon Conley born on November 29th, 2005. Bookabok resided with his mother and 5 other siblings in the Charles County Community where he attended J.C. Parks Elementary School. He completed Pre-K and graduated and was preparing to go to Kindergarten this August. Bookabok, an intelligent, self-motivated and very sweet young man was so deeply loved. If he could go to school everyday, he would.

So, why we called him Bookabok? Ask Teyvonna his oldest sister. She would tell you that when mama assigned us chores and she would put me in-charge, he wants to be in charge, and Teyvonna would say, "But I'm the oldest Bookabok!" Why we called him Bookabok? Well, let's ask Trevon, his older brother who would say from sun-up to sundown, "Stop following me Bookabok!" When asked who was good or bad, Cutie, his younger sister would say, "Bookabok!" When it came to eating his peanut butter and jelly sandwiches, you could look at his younger sister known as Precious, with all that peanut butter and jelly around her mouth and hands, you know that Jayvon shared his peanut butter and jelly sandwiches with her. To ask Precious if she could talk loudly, she would say, "Bookabok gave it to me!" His 1 year old sister Pretty-girl, also known as Tee-Tee, when rolling the ball back and forth, Jayvon would hold the ball and not roll it back. If she could talk, she would say, "Why won't you roll the ball, Bookabok!"

A beloved young man in the neighborhood of Strawberry Hills where he grew up became his very own private playground. Jayvon, would ride his scooter on the side-walk, while coming downhill, picking up speed, as he would past houses in the neighborhood, all the neighbors would see him and think to themselves, "There goes Bookabok!" A fun loving boy, who adored his Aunt Pumpkin and Uncle Daddy, who visited him very often, would run to the door when they knocked and announced, "Pumpkin and Cowal are here!" If you could've visited the church he attended on Sunday mornings, you would've notice a very clean hair cut boy. This was because the night before, he had visited his grandmother's house, better known as his "Gong-gong who cut his hair."

Bookabok enjoyed traveling with the family crew. During our many activities, swimming was one of his favorite hobbies, even if it meant staying in the kiddy pool. Other activities and adventures he enjoyed were going to the playground, drive-ins, state parks, beaches and other vacation spots.

On Thursday, August 4, 2011 at home in Bryans Road, Maryland, our Bookabok was called home to be with the Lord.

Preceding Jayvon in death is his late grandfather, Cornia L. Conley.

Jayvon leaves to cherish his memory, his mother Shevon Conley, grandmothers Shirley Conley and "Mama Koot", grandfather Mr. Hawkins, sisters Teyvonna, Shevon, Shayvon and Tiyaunna, brothers James and Trevon, aunts, uncles, cousins, father James Hawkins and friends.

From your mother Shevon, "My bunny lies over the ocean, my bunny lies over the sea, my bunny lies over the ocean, so bring back my bunny to me…I love you Jayvon."

Visitation, 10:00am until time of Service, 11:00am on Friday, August 12, 2011 in the Chapel of Thornton Funeral Home, P.A., 3439 Livingston Road, Indian Head, Maryland. Interment, Fort Lincoln Cemetery, Brentwood, Maryland.

Arrangements provided by Thornton Funeral Home, P.A.