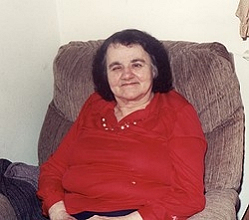 Lillian Maria Johnson, 93, of Leonardtown, MD., passed away at her residence surrounded by her loving family on May 21, 2012. Born on July 13, 1918 in Morganza, MD she was the daughter of the late James Ernest and Mary Rosalie Cooper Johnson.

Lillian is preceded in death by her husband William Benjamin Johnson, Sr., on September 19, 1994 and whom she married on August 31, 1944 in Leonardtown, MD.

Lillian is survived by her children: Gloria Abell (Jackie) and Debbie Fulton (Mark) both of Hollywood, MD., Joyce Dennis (Roger) of Mt. Pleasant, MI., Carolyn McMahon (Tommy) of Bakersville, NC., Mary Vaughan (Steve) of Lexington Park, MD., Walter Johnson (Joyce) , Donnie Johnson (Terrie), and Mike Johnson (Charlene) all of Leonardtown, MD 15 grandchildren: John Abell, Stevie Abell, Jake Dennis, Billy Johnson, Steve Vaughan, Jennifer Bean, Heather Brooks, James Vaughan, Brandon Johnson, Amanda Fulton, Jessica Johnson, Michael Johnson, Brian Drew, J.P. Sotelo and Amy Sotelo, 15 great-grandchildren. Mrs. Johnson is also survived by her brothers and sisters: Mary Hayden, Elsie Stone, and Charles Bert Johnson all of Leonardtown, MD., and Margaret Wheeler of Clements, MD.

She is preceded in death by her children: Dottie Johnson and William B. (Billy) Johnson, Jr., granddaughter Julie Dennis as well as siblings: Ernest Johnson, Mildred Stone, Joseph Melvin Johnson, James Manning Johnson, William (Sonny) Johnson, Henrietta Bean, John (Freddie) Johnson, and Francis (Dickie) Johnson.

Mrs. Johnson was a lifelong resident of St. Mary's County, Md. Lillian's life was spent as a homemaker. Since, she was one of the oldest in her family she helped her mother care for her younger siblings. Lillian was a devout catholic, reciting her rosary every day, and living her life in faith, hope, and love. Throughout her life she was devoted to her family. She enjoyed cooking, gardening, canning, taking care of her rose bushes, listening to the radio, and especially spending time with her children, and grandchildren. She was famous to her family for her Sunday and holiday family dinners that she continued to fix until she was 92. In the past year even though she could no longer fix the meals she continued to plan her dinners and with assistance of family was able to continue her "family dinner" traditions. She will be greatly missed by all who knew and loved her.

The family will receive friends on Thursday, May 24, 2012 from 5:00 PM – 8:00 PM with prayers recited at 7:00 PM in the Mattingley-Gardiner Funeral Home Leonardtown, MD. A Mass of Christian Burial will be celebrated on Friday, May 25, 2012 at 11:00 AM in St. Aloysius Catholic Church Leonardtown, MD. Interment will follow in Charles Memorial Gardens Leonardtown, MD. Pallbearers will be: Johnny Abell, Stevie Abell, Billy Johnson, Steve Vaughan, James Vaughan, and Brandon Johnson. Honorary Pallbearers will be: Jake Dennis, Michael Johnson, Jennifer Bean, Heather Brooks, Amanda Fulton, Jessica Johnson, Stephen Abell, and Brian Drew.

Contributions may be made to Hospice of St. Mary's P.O. Box 625 Leonardtown, MD 20650 and St. Aloysius Catholic Church P.O. Box 310 Leonardtown, MD 20650.

Arrangements provided by Mattingley-Gardiner Funeral Home.