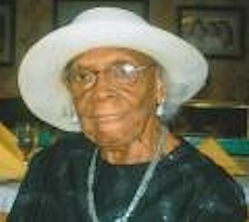 Mary Ellen Gross Jones was born August 27, 1911, to the late Mervin and Ellen Gross. On July 15, 2012, just short of her 101st birthday, the Lord peacefully called her to eternal rest after a little more than a year's stay at the Burnett Calvert Hospice House located in Prince Frederick, Maryland.

Mary, a native of Calvert County, was educated there in public school thru the sixth grade, and was united in marriage to the late Arthur Jones by the late Reverend Preston. R. Vauls in October of 1934. From this union fifteen children were born.

Raised with a religious awareness she attended St. Edmonds United Methodist Church, Mt. Hope United Methodist Church, and the Free Gospel Deliverance Temple Church of Coral Hills, where Bishop Ralph E. Green was the pastor. There she acknowledged the Lord Jesus as her Savior, was water baptized and filled with the Holy Ghost. A lover of the Word of God, she favored the 23rd Psalm.

Indicative of the times, Mary worked in several homes as a domestic engineer; her most memorable employers were Dr. Mess and Mr. & Mrs. Neto. She served them for many years as a cook, and was known for her exceptional fried chicken, potato salad, yeast rolls, and delicious cakes. She lived in "Rich Neck" for many years, farmed alongside her husband, and was skilled at canning and preserving foods. At the end of her long days, she would on occasion watch a baseball game, but spent most her time managing her home.

She enjoyed raising and nurturing farm animals including chickens, ducks, and turkeys. She was a woman of profound strength, cared for her family with much diligence, and literally rose early in the morning before the break of day for many years. Hers was the days of wood burning stoves, drawing water from a well, Kerosene lanterns, and food made only from "scratch." Also a good seamstress, she looked well after her household and did not eat the bread of idleness. (Proverbs 31)

She maintained her independence at her own home through the age of 97. As her age began to manifest debilitating symptoms that put her at risk, she was exceptionally cared for in the home of Gladys Coates, who was daily facilitated by Alberta Jones, and other supportive family members. Ultimately cared for by the staff of the Burnett Calvert Hospice House, she transitioned without dismay. Mary was courageous, never complained and typically when asked how she was feeling would say, "I feel fine…" Sober in mind, gentle in spirit, she loved the Lord Jesus Christ, and would often say it was because, "He first loved me."

She was preceded in death by her husband Arthur, son Samuel, grandson Lemuel, two daughters, Catherine and Leatha-mae, and four brothers, Warren, Mervin, Murley, and William Gross. Also preceded in death by Genevieve Coates, Ida Smith, Alverta Gross-Jones, and Isabella Turner.

Mary leaves 12 children who were blessed and loved by her over the 100 years of her life: Virginia Creek, Lillie, Sadie and husband Croon, (Marion), Gladys Coates, Alberta, Evangeline, Mattie, Arthur (Dickie), Russell and wife Sally, Daniel and wife Elsie, Grafton, and John Jones. Of certain she will be missed as well by a host, (more than we could number), of grand, great, great-great, and great-great-great grandchildren. As well, her special nephew Lambertine Jones and many other relatives, and friends will miss the fellowship they shared.

Arrangements provided by Sewell Funeral Home.

Visitation:
10:00 am to 11:00 am on Friday, July 20, 2012 at Dunkirk Baptist Church, 11275 Southern Maryland Boulevard, Dunkirk, MD 20754.

Service:
11:00 am on Friday, July 20, 2012 at Dunkirk Baptist Church, 11275 Southern Maryland Boulevard, Dunkirk, MD 20754.