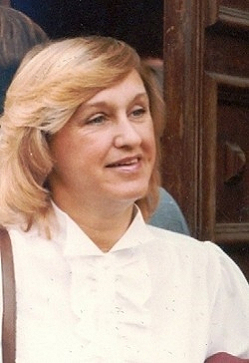 Doris Jean Longley, age 70, of Mechanicsville, MD died at St. Mary's Hospital, Leonardtown, MD on October 21, 2012. Doris was born in Washington, DC on May 5, 1942 to the late John B. Robertson and Bertha (Steele) Robertson.

After high school, Doris married William Franklin Longley, Sr. on May 9, 1960.

Doris worked as a secretary in health care. She loved her family, enjoyed Nascar Racing and especially loved her dog, Buddy.

In addition to her husband, William F. Longley, Sr., of Mechanicsville, MD, Doris is survived by her daughter Margo Donovan of Dunkirk, MD; daughter-in-law, Lisa Longley; five grandchildren, Heather Graham, David Donovan, Ryan Donovan, Becky Longley, Joseph Longley, and three great grandchildren, Thomas Clements, Demitrie Zollars, and Kylie Dillow.

She was predeceased by her son, the late William, F. Longley, Jr.; her sister, the late Bernice Mathis and brother, the late Robert Robertson.

A graveside service will be held on Friday, October 26, 2012 at 11:00 a.m. at St. Mary's Queen of Peace Cemetery, 39999 Dr. Johnson Road,Mechanicsville, MD 20659.

Serving as pallbearers will be David M. Donovan, John Young, Michael Gelzer, Bobby Robertson, Chuck Simpson and Stuart Giesbert.

Arrangements by the Brinsfield Funeral Home, P.A., Leonardtown, MD.