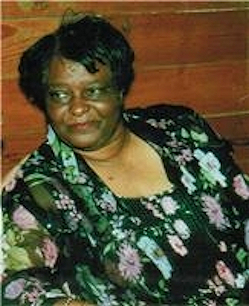 Annie Marie Nelson, 70, of Leonardtown, MD., affectionately known as "Baby Carter" peacefully passed away on January 4, 2013 at St. Mary's Hospital, surrounded by her loving family, after a long and courageous battle with several health problems. Annie was born on January 9, 1942 in Avenue, MD. to the late Mary Annie Carter and James Shaw Carter.

On November 24, 1962, Annie was joined in holy matrimony to Walter H. Nelson, Sr. They were blessed with five children: George Nelson, John H. Carter, Theresa A. Nelson, Walter H. Nelson, Jr., and Stacey S. Nelson. Annie was a wonderful mother who always provided guidance and comfort to her children.

Annie was a lifetime member of Holy Angels Church, where she taught CCD classes for many years. She was also a long-time member of the Ladies Auxillary, #305, Bushwood, MD. for thirty-five years. Throughout her adult life, Annie had various types of employment including shucking manoes at Captain Sam's. She was also employed at Dynard School, St. Mary's Nursing Center and worked for Catherine Bailey Swann until her health would no longer permit her to do so. Annie had numerous interests and hobbies. Some of her favorite past-time activities include attending gospel singing, cooking, and playing Bingo and cards.

Annie was preceded in death by her son, George Nelson; parents, James and Mary Carter; grandson, Delonte Nelson; and two sisters, Mary Attaway Hill and Dorothy Ann Carter.

Annie is survived by and leaves to cherish her precious memories her loving husband, Walter Nelson, Sr.; four children, John "Stinky" Carter, Theresa "Weedy" Nelson, Walter "Paylay" Nelson, Jr. and Stacey Nelson; sixteen grandchildren, seven great-grandchildren; two brothers, Francis Carter and James Carter; four sisters, Helen Robinson, Grace Horner, Alice Porter and Margaret Jones; daughter-in-law, Gershia Nelson; three sisters-in-law, three brothers-in-law, a very special cousin and close friend, Catherine Herbert; a special niece, who she considered to be like her own daughter, Rhonda Mason; and a host of other relatives and friends.

Visitation will be Wednesday, January 16, 2013 at 10:00 am until Mass of Christian Burial at 11:00 am at Holy Angels Catholic Church, 21335 Coltons Point Road, Avenue, MD. Interment immediately following at Sacred Heart Church Cemetery, Bushwood, MD.

Arrangements provided by Briscoe-Tonic Funeral Home.