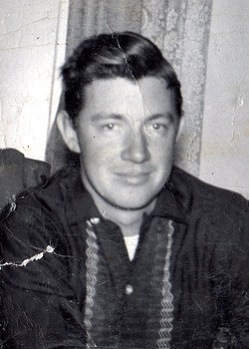 Francis Xavier Russell Sr., 82, of Leonardtown, MD died December 14, 2013 at his home surrounded by his loving family. Born July 4, 1931 in Leonardtown, MD, he was the son of the late Spalding Russell and Bertie (Redman) Russell.

Francis was a lifelong resident of St. Mary's County. On August 6, 1960, he married his late wife, Eleanor Ann Ball Russell. They spent 45 wonderful years of marriage before her death in 2005.

He was a hard worker; spending over thirty years working as an oysterman, tobacco farmer and construction worker. He was dedicated to providing a good life for his family. He enjoyed spending as much time as possible with them, including working with them in the tobacco fields and on the water oystering. His other hobbies included gardening, fishing and crabbing.

Francis is survived by his children, Francis X. Russell, Jr. (Vicky) of Leonardtown, MD, Cathy Bell (Billy) of Leonardtown, MD, Archie Russell (Dawn) of Leonardtown, MD, Laura Mills (Doug) of Mechanicsville, MD and April Terry (Walter) of Norfolk, VA; his sister, Catherine Stancil of Leonardtown, MD; his grandchildren, Francis Xavier Russell III, Jamie Russell, Billy Garner, Steven Rowe, Kayla Rowe, Branden Mills, Jacob Mills, Peyton Mills, Billy Bell II and Walter Terry; and his great grandson, Francis Xavier Russell IV.

In addition to his parents and wife, he was also preceded in death by his siblings, Joseph A. Russell, Robert F. Russell, Margaret L. Gatton, Cecelia Bussler, Charles Russell and Bernadette Dean.

Family will receive friends for Francis' Life Celebration on Tuesday, December 17, 2013 from 5:00 until 8:00 PM, with prayers at 6:00 PM. at the Brinsfield Funeral Home, 22955 Hollywood Road, Leonardtown, MD 20650. A Mass of Christian Burial will be celebrated by Rev. Lawrence Young at 10:00AM on Wednesday, December 18, 2013 at Our Lady's Catholic Church, 41348 Medley's Neck Road, Leonardtown, MD 20650. Interment will follow in the church cemetery.

Memorial contributions may be made to Hospice of St. Mary's, P.O. Box 625, Leonardtown, MD 20650.

Arrangements by the Brinsfield Funeral Home, P.A., Leonardtown, MD.