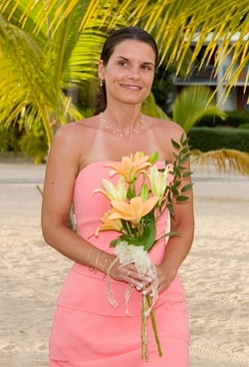 Melinda F. Kohn, 41, died December 24, 2011, with her loving family by her side in Leonardtown, Maryland. Born February 2, 1970, in Leonardtown, MD, she was the beloved daughter of Jimmy and Faye Gatton.

Melinda worked as a Senior Financial Management Analyst for JF Taylor, Inc., in support of PMA 213 (Naval Air Traffic Management Systems Program Office), at the Patuxent River Naval Air Systems Command (NAVAIR).

Melinda was beautiful, athletic, outgoing, and full of life. She enjoyed outdoor activities such as snow skiing, golfing, volleyball, and loved to work out and stay in great physical shape. She also enjoyed sunny and tropical locations such as San Diego and the US Virgin Islands where she liked sightseeing, the beach, and snorkeling. Some of her favorite times were those spent in the company of her family. She particularly loved to spend time with her beautiful daughter Hali, who was her pride and joy.

In addition to her parents, Melinda is survived by her husband, Richard A. Kohn; her daughter, Hali Alexandra Ribak of Leonardtown, MD; her sisters, Brenee Lucarelli (Louis) of Hollywood, MD, Vicky Russell (Francis) of Leonardtown, MD, and Stacy L. Brown of Hagerstown, MD; her brother, James I. Gatton, Jr. of Williamsport, MD; her step-daughter, Ericka L. Kohn of Marshall, VA, and many aunts, uncles, nieces, nephews and cousins.

She was preceded in death by her grandparents Stanley and Ethel Williams, and William (Willie) and Mary Catherine Gatton.

Family will receive friends for Melinda's Life Celebration on Wednesday, December 28, 2011 from 5 to 8 p.m. with prayers at 7 p.m. in the Brinsfield Funeral Home, 22955 Hollywood Road, Leonardtown, MD 20650. A Mass of Christian Burial will be held on Thursday, December 29, 2011 at 11 a.m. at Our Lady's Catholic Church at Medley's Neck, 41410 Medley's Neck Road, Leonardtown, MD 20650.

Memorial contributions may be made to Sidney Kimmel Cancer Center, Johns Hopkins, Baltimore (http://www.hopkinsmedicine.org/kimmel_cancer_center/); Hackerman-Patz Patient and Family Pavilion, Baltimore (http://www.hopkinsmedicine.org/kimmel_cancer_center/our_center/facilities/hackerman_patz/); Lymphoma Research Foundation, New York, NY ( http://www.lymphoma.org/); Lombardi Cancer Center, Georgetown University, Washington DC ( http://lombardi.georgetown.edu/); St. Mary's Hospital, Leonardtown, MD ( http://www.stmaryshospitalmd.org/); Cancer Recovery Center (CRC), California, MD (Wildewood) ( http://shah-associates.com/?page_id=404).


Arrangements by the Brinsfield Funeral Home, P.A., Leonardtown, MD.