Tilley, Brandon Michael
Birth: 1996-09-29 in Prince Fredrick, Maryland
Residence: Lusby, Maryland
Death: Wednesday, April 13, 2011
Laid to Rest: Wednesday, April 20, 2011 in the Chesapeake Highlands Memorial Gardens, Port Republic, Maryland
Condolences: Click to View or Post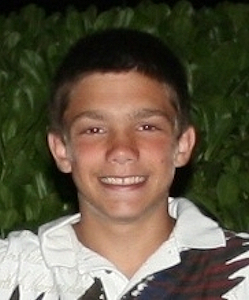 Brandon Michael Tilley, age 14, of Lusby, MD died suddenly on April 13, 2011 at Childrenís Hospital, Washington, D. C. Brandon was born in Prince Frederick, MD on September 29, 1996 to Michelle Leigh Lane Tilley and Christopher Scott Tilley. He attended ninth grade at Patuxent High School, was a member of NJROTC, Patuxent High School Wrestling team, he sung in the high school choir, enjoyed sailing, orienteering and volunteering.

Brandon is survived by his parents Christopher and Michelle Tilley, sisters Kellie and Kimberly Tilley, his brother Nicholas Tilley all of Lusby, MD; grandparents Betty L. Hess Tilley and Franklin H. Tilley, Colleen Lane, Nelson Lane and Sharon Elliott; his aunts and uncles Jeanine and her husband Robert Coleman, Gene and his wife Sandra Lane, Andrea and her husband Steven Eggers Franklin Tilley and the late Andrea Tilley and numerous cousins. Brandon was a joy to his entire family and his many friends, his warmth and brilliance of his soul and personality will never be forgotten.

The family received friends on Tuesday, April 19, 2011 at Rausch Funeral Home, P. A., 20 American Lane, Lusby, MD from 2-4 and 6-8 PM.. A service celebrating Brandonís life will be held at St. Paul United Methodist Church Gymnasium on Wednesday, April 20, at 11:00 AM with Pastor David Showalter officiating. Interment will follow at Chesapeake Highland Memorial Gardens, Port Republic, MD. Pallbearers are Michael Kuhn, Gerrett Lee, Ryan Hotte, Sean McIlory, Michael Matthews, A. J. Stanley, Robert Kaczorowski and J. Michael Bearjar.

In lieu of flowers memorial contributions may be made in Brandonís memory to The Brandon Tilley Memorial Fund, C/O PNC Bank, Account #5315131104. Funds will be used to establish a scholarship fund in his honor for NJROTC at Patuxent High School.

Arrangements by the Rausch Funeral Home, P. A., Lusby, MD.