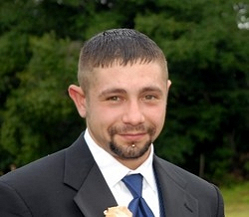 Steven "Stevie" Alan Belkov, Jr., 31, of Waldorf, MD, died on October 16, 2011. Stevie was born on September 22, 1980 in Silver Spring, MD. Stevie was predeceased by his maternal grandparents, Helga and Nicolai Kraemer and paternal grandmother, Sandra Belkov.

Stevie loved listening to many types of music. His favorite band was Nine Inch Nails which he displayed proudly. Stevie loved reptiles, dogs, cats, as well as numerous other types of animals which he considered part of his family. He loved cooking for himself, friends and family.

Stevie is survived by many loved ones: his parents, Steven, Sr. and Nicole Belkov; his daughter, Olivia Belkov; his sister, Daniele Kennedy and her husband, David Kennedy; his brother, Cory Belkov and his wife, Dana Belkov; along with three nephews: Nathan Kennedy, Jordan Kennedy and Blaize Belkov; and his grandfather, Erwin Belkov. He will also be missed by his cousins, Jeri Anderson, Shannon Simpson and Travis Lawson, along with many other family members.

There will be a Memorial Life Celebration at 1:00PM on Saturday, October 29, 2011 at Brinsfield-Echols Funeral Home, P.A., 30195 Three Notch Road, Charlotte Hall, MD 20622.

In lieu of flowers, a memorial fund is being set up for Stevie's daughter, Olivia.

Arrangements provided by Brinsfield-Echols Funeral Home, P.A.