Return to the Obituary Announcements Main Page
Barbour, Dorothy Frances
Birth: 1917-02-28
Residence: Charles County, Maryland
Death: Monday, April 23, 2012
Laid to Rest: Thursday, April 26, 2012 in the St. Ignatius Catholic Church Cemetery, Port Tobacco, Maryland
Condolences: Click to View or Post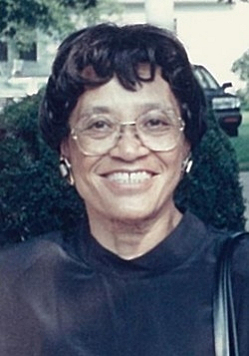 Dorothy Frances Barbour, a resident of Charles County, Maryland died on April 23, 2012 at the Genesis Health Care, La Plata Center. She was 95 years old. Mrs. Barbour was the sixth and youngest child of Thomas Webster Short and Margaret Lucille Smallwood.

Mrs. Barbour was married to James Walter Barbour for 41 years before his death in 1981. She never remarried.

Three sisters precede her in death: Louise Wilson, Mildred Wheeler, and Grace Hocker and two brothers, Calvin Short and James W. Short.

Mrs. Barbour was well known and loved in her Southern Maryland community. For many years she worked with and helped her older sister Mildred manage a family business on Crain Highway across from her home. She was a life-long member of the St. Ignatius Catholic Church. She supported and participated in many of the church's programs and ministries. She was especially fond of the annual August summer picnic. She extended an invitation and checked regularly prior to the picnic to ensure that family and friends attended, including those living miles away and out of state.

Mrs. Barbour had a very sweet disposition and she made friends wherever she was and always kept a very positive attitude. Although she never had children, she loved all the children of her siblings, their children and her friends' children.

Mrs. Barbour was a breast cancer survivor and she walked each year for many years to raise awareness and funds to fight breast cancer. She was an avid gardener and prided herself on the vegetables she raised each year.

Numerous nieces, nephews, cousins and their children and grandchildren survive Mrs. Barbour. Mrs. Barbour will be deeply missed, but not forgotten.

Family and friends are invited to a viewing on Thursday, April 26, 2012 from 10 am until time of Funeral Mass at 11 am at St. Ignatius Catholic Church-Chapel Point at 8855 Chapel Point Road, Port Tobacco, Maryland 20677. Father Edward C. Dougherty will officiate. Interment will follow in the church cemetery.

In lieu of flowers memorial donations may be sent to the American Cancer Society, P.O. Box 22718, Oklahoma City, OK 73123-1718.

Arrangements provided by Brinsfield Funeral Home.
Return to the Obituary Announcements Main Page