Thomas, McArthur , Jr.
Birth: 1972-09-16
Death: Thursday, May 03, 2012
Laid to Rest: Saturday, May 12, 2012 in the Chesapeake Highlands Memorial Gardens, Port Republic, Maryland
Condolences: Click to View or Post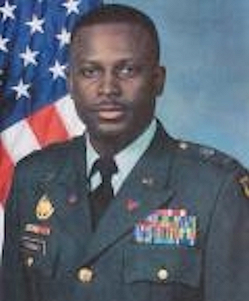 Chief Warrant Officer Four (CW4) McArthur Thomas Jr., 39, passed away on May 3, 2012 while stationed in South Korea. He was born on September 16, 1972 to the late McArthur (Mac) Thomas Sr. and Shirley (Ann) Kyler. McArthur Thomas Jr. was also known as Heavy or Mac to his family and friends.

McArthur (Heavy) attended school in the Calvert County public school system where his love for playing football and basketball started. He graduated from Calvert High School in 1990, and started his lifelong service to defending the country he lived in by joining the United States Army in November of 1990.

McArthur started out his military career as a non-commissioned officer and later in his career advanced his military status to warrant officer where he reached the grade of CW4 after 21 years of service. He served two combat tours where he was awarded and decorated for his service. McArthur graduated with a Bachelor of Business Administration (Cum Laude) October 2007 and Master of Business Administration (Human Resource Management) May 2009 from Columbia Southern University in Florida.

He was a person who never left a stone unturned or an opportunity to become a better person. McArthur loved people and people fell in love with him. His personality and demeanor welcomed in everyone he met and his love kept them coming back for more. He was a father first, son second, brother third, and friend with all. Once McArthur met you, you were "Macatised" and if you ever got the signature statement of "Joker" you knew right then and there you were a friend of McArthur's for life because he never disowned anyone he met. McArthur was a person who was able to travel the world through his military career and left his ambassador mark on everyone who had the pleasure of meeting him.

McArthur leaves to cherish his son Deonte Thomas, mother Shirley (Ann) Kyler, grandmother Queenie (Ya Ya) Kyler, sister Pamela Neal (Derrick), brothers David Thomas (Tashia), Travis Smith, special friend LaKesha Griffith, nieces Tatiana and Breanna Neal, nephews Jamar, Juan, Jayvell, Jervonta, and De'quan, a host of uncles, aunts, and other family and friends. Although we couldn't acknowledge all of his family and friends, McArthur has a place reserved in all of our hearts and his memory will live on forever in each of us.

Arrangements provided by Sewell Funeral Home.

Visitation:
6:00 pm to 8:00 pm on Friday, May 11, 2012 at Sewell Funeral Home's Chapel, 1451 Dares Beach Road, Prince Frederick, Maryland 20678.

10:00 am to 11:00 am on Saturday, May 12, 2012 at Greater Mt. Zion Church, 3170 German Chapel Road, Prince Frederick, MD 20678.

Service:
11:00 am on Saturday, May 12, 2012 at Greater Mt. Zion Church, 3170 German Chapel Road, Prince Frederick, MD 20678.