Graves, Joseph Melvin
Birth: 1927-01-27 in Bushwood, Maryland
Residence: St. Mary's County, Maryland
Death: Thursday, May 10, 2012
Laid to Rest: Tuesday, May 15, 2012 in the Sacred Heart Catholic Church Cemetery, Bushwood, Maryland
Condolences: Click to View or Post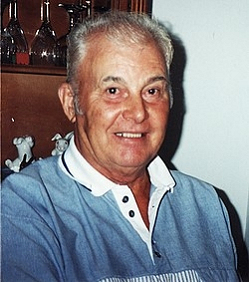 Joseph Melvin "Mully" Graves, 85, passed away on May 10, 2012 in Leonardtown, MD. Born on January 27, 1927 in Bushwood, MD., he was the son of the late Robert Parran and Agnes Gertrude Arnold Graves.

Joseph is survived by his loving wife Eleanor Marie Cheseldine Graves whom he married in Holy Angels Catholic Church Avenue, MD.

Joseph is survived by his sons; Danny Graves (Faye) of Leonardtown, MD., Wayne Graves (Pat) of Hollywood, MD., Glenn Graves (Tina) of Bushwood, MD., 6 grand children and 6 great grandchildren. Mr. Graves is also survived by his siblings; Virginia Faunce (Bobby) of Avenue, MD., Margaret Greenway (Gene) of Waldorf, MD., and William Graves (Lois) of Virginia.

He was preceded in death by his sister Gloria White.

Mr. Graves served in the United States Army as a Staff Sgt.; his duty stations included Belgium, and Germany, from 1945 to 1947. While serving in the United States Army, he received the Good conduct Medal, and World War II Victory Medal. Joseph worked as a Shipwright in The Seafarers Harry Lundeberg School of Seamanship for 30 years retiring in 1998. Mully was a lifelong resident of St. Mary's County. He enjoyed music, gardening, fishing, crabbing, oystering, clamming, spending time with family and friends.

The family will receive friends on Monday, May 14, 2012 from 5:00 PM – 8:00 PM with prayers recited at 7:00 PM in the Mattingley-Gardiner Funeral Home Leonardtown, MD. A Mass of Christian Burial will be celebrated on Tuesday, May 15, 2012 at 10:00 Am in Holy Angels Catholic Church Avenue, MD., with Fr. Michael Tietjen officiating. Interment will follow in Sacred Heart Catholic Cemetery, Bushwood, MD. Pallbearers will be: Michael Graves, Jason Graves, Roger White, Christopher Graves, Tracy Graves and Michael Lacey.

Contributions may be made to the 7th Deist. Vol. Rescue Squad, P.O. Box 7 Avenue, MD 20609, and/or Holy Angels Catholic Church, 21340 Coltons Point Road, Avenue, MD 20609.

Arrangements provided by Mattingley-Gardiner Funeral Home.