Linster, Mildred Louise
Birth: 1924-03-27 in Washington, DC
Residence: Waldorf, Maryland
Death: Thursday, May 10, 2012
Laid to Rest: Friday, May 18, 2012 in the Garrison Forest Veterans Cemetery, Owings Mills, Maryland
Condolences: Click to View or Post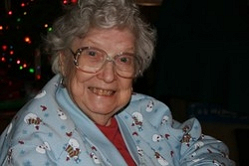 Mildred Louise Linster, 88, of Waldorf, MD, passed away at her home, with her loving family by her side, on May 10, 2012. Born March 27, 1924 in Washington, DC, she was the daughter of the late Catherine L. (Fisher) Hill and the late Wilber L. Hill.

Milred was employed with USF&G insurance for forty plus years. She resided in Parkville with her late husband Tom. Then came to live in Waldorf to be with her niece Sue Winter and family. She volunteered for American Red Cross blood drives and with UnitedWay and belonged to the American Legion Auxiliary in Parkville, MD.

Aside from her parents, Mildred is predeceased by her beloved husband, John T. Linster, Jr.; her brother, Harry Kinder; her sisters, Edna Shroy, Virginia Roxby, and Annie Dolan.

Mildred is survived by her sisters, Mary Baldwin, Betty Gentile, Joyce Bowen, and Doris Kohl.; and many nieces and nephews.

All arrangements are being handled by Brinsfield-Echols Funeral Home, P.A.

There will be a Committal Service/Inurnment on Friday, May 18, 2012, 11:30AM at Garrison Forest Veterans Cemetery, 11501 Garrison Forest Road, Owings Mills, Baltimore County, Maryland 21117.

In Lieu of Flowers, memorial donations may be made to: Hospice of Charles County, P.O. BOX 1703, La Plata, Maryland 20646.