Return to the Obituary Announcements Main Page
Sealey, Clyde Anthony
Birth: 1910-08-08 in Pedro Miguel, Canal Zone, Republic of Panama
Residence: Huntingtown, Maryland
Death: Thursday, May 10, 2012
Condolences: Click to View or Post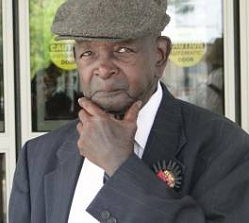 Clyde Anthony Sealey, 101, of Huntingtown, MD passed away May 10, 2012 at Heritage Harbour Health Center, Annapolis, MD. He was born August 8, 1910 in Pedro Miguel, Canal Zone, Republic of Panama to Prince Alfred and Beatrice (Parris) Sealey.

Mr. Sealey was employed as a clerk typist for the Panama Canal Company for 49 years, retiring in 1977. He came to the United States in 1980 settling in Hampton, VA and relocating to Huntingtown in 2000. He was a member of Antioch Baptist Church in Upper Marlboro, MD. He frequently attended the senior centers at North Beach and Calvert Pines in Prince Frederick.

Clyde is survived by his wife Olive Moody Sealy, daughters Sonia Hinds of Huntingtown, Nicole Miller and her husband Steve of Anchorage, AK and a son Rogelio Sealey and his wife Jeannette of the Republic of Panama. He was the father of eight children, the grandfather of 30, great-grandfather of 43, and great-great-grandfather of 5.

A visitation for family and friends will be held Saturday May 19 from 2-4 PM at Emmanuel Baptist Church, 3800 Old Town Road, Huntingtown, MD where a funeral service and celebration of Clyde's life will follow at 4:00 PM. Interment will be private.

Arrangements are by Rausch Funeral Home, Owings, MD.
Return to the Obituary Announcements Main Page