Dixon, Peggy Lenora
Birth: 1928-10-12 in Washington, DC
Residence: Leonardtown, Maryland
Death: Tuesday, May 22, 2012
Laid to Rest: Friday, May 25, 2012 in the Queen of Peace Cemetery, Helen, Maryland
Condolences: Click to View or Post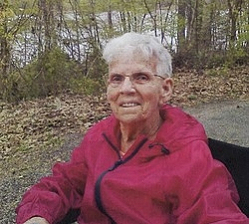 Peggy Lenora Dixon, 83, of Leonardtown, MD passed away on May 22, 2012 in Callaway, MD. Born on October 12, 1928, in Washington, DC. she was the daughter of the late Edmund Roger and Josephine Julia Kelly Wright.

She was preceded in death by her loving husband Ralph Dixon who died on May, 1997, and whom she married in 1978 in Leonardtown, MD.

Peggy is survived by her children: Joseph S. Mattingley (Terry) of Mechanicsville, MD. and Bonnie J. Hoepfinger of Fredericksburg, VA.

She was preceded in death by her siblings: Roger Wright, Donald Wright, and Marion Reese.

Peggy graduated from St. Anthony's High School in Washington, DC in 1946. She moved from Washington, DC to St. Mary's County, MD in 1950 and was an Assistant Manager for the Enterprise Newspaper retiring in 1983.

The family will received friends on Thursday, May 24, 2012 from 5:00 PM – 8:00 PM with prayers recited at 7:00 PM in the Mattingley-Gardiner Funeral Home Leonardtown, MD. A Funeral Service will be held on Friday, May 25, 2012 at 9:30 AM in the Mattingley-Gardiner Funeral Home, Leonardtown, MD with Father Keith Woods officiating. Interment will follow in Queen of Peace Catholic Cemetery, Helen, MD.

Contributions may be made to Hospice of St. Mary's P.O. Box 625 Leonardtown, MD 20650.

Arrangements provided by Mattingley-Gardiner Funeral Home.