McAllister, Terry Bentley, Sr.
Birth: 1930-10-09 in Speedwell, Virginia
Residence: Owings, Maryland
Death: Thursday, May 24, 2012
Condolences: Click to View or Post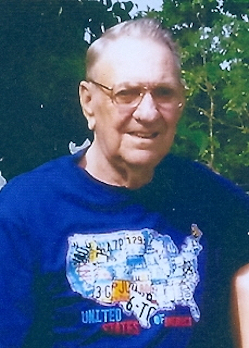 Terry Bentley "Buddy" McAllister, Sr., 81, of Owings, MD passed away May 24, 2012 at his residence. He was born October 9, 1930 in Speedwell, Virginia to James R. and Sarah (Crouse) McAllister.

He was raised in Speedwell until moving with his family Williamsburg, VA when he was a teenager. He attended public schools and served in the United States Army from 1951 to 1953. He completed his Army Reserve obligation in 1956 and in 1962 he relocated to Upper Marlboro, MD and married Margaret "Peggy" Jones on April 2, 1964. They lived in Forestville, MD and later moved to Richmond, VA due to his employment, and in the early 1970's moved to southern Anne Arundel County in Owings, MD.

Buddy was employed as a heavy construction superintendent for Wright Contracting and R.E. Pierson Construction, building highway overpasses and bridges. He had been retired for the last ten years. In addition to his construction work Buddy raised tobacco on his farm. He enjoyed working on farm equipment and tractors, and was a fan of NASCAR.

Buddy was preceded in death by his parents, and sisters Myrtle Bishop, Nancy McAllister, Margaret Jones and Aileen Irvin.

He is survived by his wife Margaret Jones "Peggy" McAllister, son Terry B. McAllister, Jr. and wife Julie of Fairhaven, MD, and daughter Sharon L. McAllister and partner Dani of Owings. He is also survived by grandchildren Terry B. III, Casey L. and Desiree N. McAllister, a great-granddaughter Hartley G. McAllister, and siblings Robert McAllister of Huntingtown, MD, Elsie Hall, Kathryn Larsen and William McAllister, all of Williamsburg, VA.

A memorial celebration of Buddy's life will be held at 4:00 PM on June 30, 2012 at the family's residence, 6929 Old Solomons Island Road, Owings, MD.

Expressions of sympathy in Buddy's name may be made to Hospice of the Chesapeake, 445 Defense Highway, Annapolis, MD 21401.

Arrangements provided by Rausch Funeral Home.