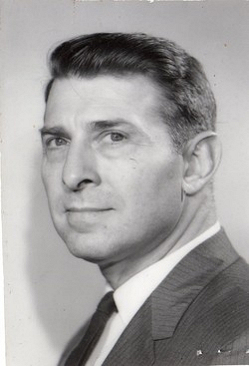 Robert Richard Hays, 93 of Leonardtown, MD died May 24, 2012 at St. Mary's Hospital. Born June 11, 1918 in Norristown, PA, he was the son of the late Dana McGowan Hays and Grace Catherine (Stickles) Hays.

He lived in Wilkinsburg, Pennsylvania where he attended Carnegie-Mellon University and performed graduate work at the University of Pittsburgh, MIT, and USC. He was a member of two honorary professional societies, Phi Kappa Phi and Tau Sigma Delta, a member of the Associated Artists of Pittsburgh, and was a charter member of the Society of Federal Artists and Designers, serving twice as president. He won several prizes for his drawings, water colors, ceramics, and wood and jewelry crafts. He also received numerous achievement awards and was noted for his advanced drawings of ships. For many years, he drew house plans for friends as well as his own homes.

Mr. Hays was a retired analyst, audio-visual, Communication expert for the Navy Department for 29 years, and Co-Chairman/Executive Secretary of Panel 5, Committee on Scientific and Technical Information (COSATI) for the White House.

Mr. Hays enlisted in the U.S. Naval Reserve V-7 Program and served 4 ½ years as a naval officer, including assignments with Research and Standards, Washington DC; Medical Research, Submarine Base, New London, CN, and served 4 years (military and as a civilian) on the staff of the National War College, Washington, DC.

He continued his career as a Program Analyst with the Progress Analysis Group, Chief of Naval Operations (CNO), for 13 years, initiating several Navy-wide programs affecting CNO planning and Navy relations with industry, professional groups and non-profit organizations. During this period he drew the artist concepts of the first nuclear-powered ships, such as the "Enterprise", aircraft carrier, CVA(N) 59, the cruiser, "Long Beach" CA(N) and numerous other Naval ships to be presented before the House and Senate Appropriations Committees for several years. Many of these drawings appeared as the first artist concepts to be published in Janes' Fighting Ships, 1959-60.

Mr. Hays' activities concerning congressional hearings on Navy programs and special overseas assignments for CNO continued until 1963 when he served as assistant Research Coordinator for the Navy's Scientific and Technical Information Program (STINFO) in the Office of Naval Research. He served as editor of the Navy Technical Forum and Navy's STINFO Newsletter from 1964-1969.

In December 1965, Mr. Hays was designated the Navy Focal Point for Navy's STINO Programs. During the 5-year assignment, he also served as the first Executive Secretary on the Management of Technical Information, Panel Five, the Committee on Scientific and Technical Information (COSATI) for the White House. After two years with the Material Command Headquarters, he retired in 1972, ending 29 years of government service.

Mr. Hays is survived by a daughter, Mrs. Sally Jeane Huff of Leonardtown, MD, a son Garold Robert Hays (Margaret) of Frederick, Maryland, a grandson, Sean Carrol Hays of Oveide, Florida, four step grandchildren, two great grandchildren and a special friend of thirty years, Carol Wathen.

He was preceded in death by his wife, Barbara Jeane (Yoakam) Hays in 1972.

Family will receive friends for Mr. Hays' Life Celebration on Thursday, May 31, 2012 from 5:00 p.m. until 7:00 p.m. in the Brinsfield Funeral Home, 22955 Hollywood Road, Leonardtown, MD 20650. A funeral service will be held at 7:00 p.m. in the Brinsfield Funeral Home Chapel.

Memorial contributions may be made to the Leonardtown Volunteer Rescue Squad, P.O. Box 299, Leonardtown, MD 20650.

Arrangements by the Brinsfield Funeral Home, P.A., Leonardtown, MD.