Bradley, Dorothy Mae
Birth: 1924-12-24 in Washington
Residence: Mechanicsville, Maryland
Death: Tuesday, May 29, 2012
Laid to Rest: Saturday, June 02, 2012 in the Washington Cemetery, Washington, Pennsylvania
Condolences: Click to View or Post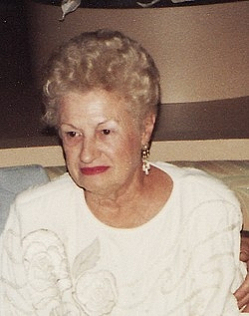 Dorothy Mae Bradley, 87, of Mechanicsville, Maryland, died Tuesday, May 29, 2012. She was born December 24, 1924, in Washington, daughter of William Lawrence Morris and Elise Emma Shoup Morris.

Mrs. Bradley worked for Dr. Thomas in Aliquippa for 27 years, retiring in 1983. Following retirement, she lived in Sarasota, Florida; Rehoboth Beach, Delaware; Alexandria, Virginia; and Maryland.

On March 22, 1943, she married her loving husband Robert Andrew Bradley, who died October 29, 1996. She is also preceded in death by her brother, Donald L. Morris, Sr.; daughter, Nancy Jean Getz; and granddaughter, Patricia Jean Getz.

She is survived by her grandchildren, Kimberly and Jay Gregory and Pamela and Jeff Robey; great grandchildren, Andrew and Harrison Gregory, and Ian and Cheyenne Robey; nephew, Donald L. Morris, Jr., and his wife, Bridget, and their children, Robert and Donald Morris.

Friends will be received from 10 till 11 a.m., the time of service, Saturday, June 2nd in William G. Neal Funeral Homes, Ltd., 925 Allison Avenue, Washington, with Pastor James Newman officiating. Burial will follow in Washington Cemetery.

Memorial contributions may be made to Hospice of St. Mary's P.O. Box 625, Leonardtown, MD 20650 or your local Hospice.

Arrangements provided by Mattingley-Gardiner Funeral Home and William G. Neal Funeral Home Washington, Pennsylvania.