Kronenwetter, Sarah Martin
Birth: 1935-08-23 in Ridgway, Pennsylvania
Residence: California, Maryland
Death: Tuesday, June 05, 2012
Laid to Rest: Saturday, June 09, 2012 in the Charles Memorial Gardens, Leonardtown, Maryland
Condolences: Click to View or Post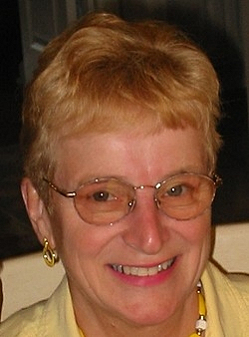 Sarah Martin Kronenwetter, 76, of California, MD., passed away surrounded by her loving family on June 5, 2012 in Washington, DC. Born on August 23, 1935 in Ridgway, Pennsylvania she was the daughter of the late Frederick and Dorothy Martin.

Sarah was the loving wife of Ted Kronenwetter whom she married on August 20, 1960 in Saint Mary's, PA.

Sarah is survived by her sons; Mike Kronenwetter (Anne) of Pittsburgh, PA, and Dave Kroenwetter (Lynn) of Leonardtown, MD., 4 grandchildren, and siblings; Jim Martin of Ridgeway, PA, and Pat Lorenzo of Sharon, PA.

She is preceded in death by her siblings; Frederick Martin, Maxine Minich, William Martin, Herb Martin, and Martha Fox.

Sarah graduated from St. Mary's high school in 1953 and moved from St. Mary's, PA to St. Mary's County in November, 2008. Sarah worked as a teacher's aide for 20 years retiring in 1997. She loved her family especially her grandchildren.

The family will receive friends on Friday, June 8, 2012 from 5:00 Pm – 8:00 PM in the Mattingley-Gardiner Funeral Home, Leonardtown, MD. A Graveside Service will be held on Saturday, June 9, 2012 at 2:00 PM in Charles Memorial Gardens, Leonardtown, MD., with Pastor Michael Jones officiating.

The family request that any contributions be made to the Patuxent Presbyterian Church, 23421 Kingston Creek Road California, MD 20619 in memory of her life and love of the church.

Arrangements provided by Mattingley-Gardiner Funeral Home.