Sparrow, Charlene Farrall
Birth: 1942-06-21 in La Plata, Maryland
Residence: Prince Frederick, Maryland
Death: Thursday, June 14, 2012
Laid to Rest: Tuesday, June 19, 2012 in the St. John Vianney Catholic Church Cemetery, Prince Frederick, Maryland
Condolences: Click to View or Post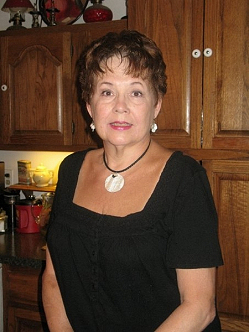 Charlene Farrall Sparrow, 69, of Prince Frederick, MD passed away on June 14, 2012 in Prince Frederick, MD.

Charlene was born June 21, 1942 to Ferdinand and Cecelia Farrell in La Plata, Maryland. She moved to Calvert County in 1976. Charlene enjoyed many activities, but she really enjoyed being in the Red Hat Society of Prince Frederick, MD. She was also very involved in her church, St. John Vianney. One of her favorite past times was to play cards, but poker was her game. When Charlene stepped into the kitchen you knew there was going to be something special ending up on your plate; you could only wish it was her famous fried chicken.

Charlene was predeceased by her parents, her husband Douglas Sparrow, Sr. and her son Douglas Sparrow, Jr.

She is survived by her children Jan McAnallen of Bixby, OK, Stan Sparrow, of Annapolis, MD, and Susan Higgs of Prince Frederick, MD. She is also survived by her grandchildren Jeremiah and Christina Sparrow, Whitney and Hannah McAnallen, and Cynthia, Billy, and Taylor Higgs.

The family will receive friends on June 18, 2012 from 4:30 - 8:00 PM at St. John Vianney Catholic Church, 470 Main Street, Prince Frederick, MD 20678. A mass of Christian Burial will be offered on June 19, 2012 at 11:00 AM at the church. Interment will follow after the mass in the church cemetery.

Contributions may be made in Charlene's name to Calvert Hospice, P.O. Box 838, Prince Frederick, MD 20678.

Arrangements provided by the Rausch Funeral Home, 4405 Broomes Island Road, Port Republic, MD 20676.