Sandoval, Eutimio Ernesto
Birth: 1921-01-26 in Holman, New Mexico
Residence: Waldorf, Maryland
Death: Wednesday, June 13, 2012
Laid to Rest: Monday, June 25, 2012 in the Maryland Veterans Cemetery, Cheltenham, Maryland
Condolences: Click to View or Post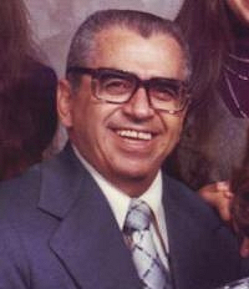 Ernest "Sandy" Sandoval of Waldorf, Maryland, died peacefully on June 13, 2012, reuniting with his wife on their 60th wedding anniversary. Born in Holman, New Mexico in 1921.

Sandy enlisted in the United States Navy and served in World War II as a pilot. During his service he met and married his wife, Marie Doolin, in Hawaii where they were both stationed. After the Navy, Sandy and Marie initially settled in Albuquerque, NM, but soon were off to Suitland, MD, where Sandy joined the first wave of computer programmers being trained by the US Census Bureau. This launched a successful career in the emerging Information Technology field, including an overseas assignment with the State Department in the Dominican Republic. Sandy enjoyed traveling with his wife, exploring the magnificent National Parks throughout the West and up into Alaska.

He will be greatly missed by his daughters Robin Cupp of White Plains, MD, Carol Costin of Clayton, NC, and Sherry Sandoval of Natick, MA, their husbands, William Cupp, Tim Costin, and David Lavalley; grandchildren Jim, Ann, Melanie, Jamie, Jonathan and Avery; two great granddaughters Chloe and Lily'Ann, and his faithful companion Spunky. We love you, Dad. Hugs to Mom.

Arrangements provided by Lee Funeral Home.