Barnes, Olive Catherine
Birth: 1917-10-29 in Pisgah, Maryland
Residence: Pisgah, Maryland
Death: Tuesday, June 19, 2012
Laid to Rest: Monday, June 25, 2012 in the St. Charles Cemetery, Glymont, Maryland
Condolences: Click to View or Post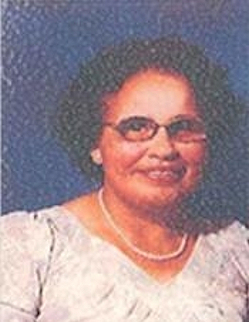 Barnes, Olive Catherine Dunnington (Age 94) of Pisgah, Maryland.

Suddenly, on Tuesday, June 19, 2012 at 3:15 a.m., Mrs. Olive Catherine Dunnington-Barnes, departed this life at Civista Medical Center, La Plata, Maryland. She was born October 29, 1917 in Pisgah, Maryland.

She was a member of the Catholic Faith and was baptized at St. Mary Star of the Sea Church. Mother loved her faith and never missed a Mass. She attended Mass each and every Sunday and daily Mass throughout the week. She prayed the Rosary every night before she went to bed. Her Rosary was her security blanket.

Mother was a domestic worker who loved her home, family and flowers. Flowers were inside the house and outside in small gardens. She enjoyed doing good deeds for anyone she could.

In addition to her parents she was preceded in death by her late husband, Joseph Barnes, her daughter (Ada), who passed away two years ago, nine brothers and four sisters.

She is survived by her three sons, Reverend Mr. Johnny R. Barnes, Cecil R. Barnes and Edward Barnes, Jr; five grandchildren, six great grandchildren and two great-great grandchildren; two brothers, Paul A. Dunnington and Clifford L. Dunnington; two daughters-in-law, Hilda Barnes and Mildred Barnes; one son-in-law, Leslie Whitaker; one brother-in-law, Edward Smallwood, Jr; two sisters-in-law, Elizabeth Dunnington and Pearlene Dunnington and a host of nieces and nephews.

Visitation will be held at Thornton Funeral Home, P.A., Sunday, June 24, 2012 from 3:00 pm to 7:00 pm with prayers at 5:00 pm. Mass of Christian Burial is Monday, June 25, 2012 at 11:00 am, St. Mary Star of the Sea Church, Indian Head, Maryland. Interment will follow at St. Charles Cemetery, Glymont, Maryland.

Arrangements provided by Thornton Funeral Home, P.A.