Ruble, Carl Roland
Birth: 1931-12-19 in Parkersburg, West Virginia
Residence: La Plata, Maryland
Death: Thursday, June 28, 2012
Laid to Rest: Tuesday, July 03, 2012 in the Maryland Veterans Cemetery, Cheltenham, Maryland
Condolences: Click to View or Post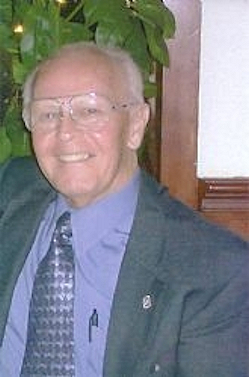 Carl Roland Ruble, 80, of La Plata, died on Thursday, June 28, 2012 at Charlotte Hall Veterans Home in Charlotte Hall, MD. Born on December 19, 1931 in Parkersburg, West Virginia, he was the son of the late Nellie Fay Simms and the late Carl Burl Ruble.

Mr. Ruble attended McKinley Elementary and Parkersburg High School in Parkersburg, WV. He attended the University of Kentucky on a music scholarship followed by enlistment in the U. S. Navy.

On May 27, 1951, he married Phyllis Ann Hopkins and moved to Washington, DC.

Mr. Ruble then entered the U. S. Naval Music School and eventually became a music instructor. Later he served on the battleship U.S.S. Iowa during the Korean Conflict. The family joined the Congress Heights Presbyterian Church in 1955 and later in 1985 joined the Clinton Presbyterian Church. Mr. Ruble was deacon in the church for many years. He worked as an electronic engineer on Capitol Hill for 30 years, where he made sound and video recordings for the U. S. Congressmen.

Following retirement, he was appointed to the Prince George's County Board of Elections by Senator Mike Miller and later became the President of the Board. He was a member and President of NARFE Chapter 1260. Mr. Ruble was a life member of the Masonic Lodge William R. Singleton-Hope-Lebanon #7 in Washington, DC and Saint Columba #150 in La Plata, MD. He enjoyed square dancing and ballroom dancing. He also played in the Washington Redskins Marching Band for 18 years.

He is survived by his wife of 61 years, Phyllis Ann; his children Debra Ann Bowling and her husband Garth E. Bowling, Thomas Carl Ruble and his wife Lori Ruble; his grandchildren Jason Christopher Hansbrough, Ryan Michael Hansbrough, and Robert Carl Ruble; his great grandchildren Elijah Michael Hansbrough, Emily Lucille Hansbrough and Mark Christopher Hansbrough.

Visitation will be Monday, July 2, 2012 from 6PM to 8PM at the Good Samaritan Presbyterian Church, 13025 Good Samaritan Drive, Waldorf, MD. Funeral Service will be on Tuesday, July 3, 2012 beginning at 11:30AM at the Good Samaritan Presbyterian Church, 13025 Good Samaritan Drive, Waldorf, MD with Reverend Lisa Kenkeremath officiating. Interment to follow at Maryland Veterans Cemetery in Cheltenham, MD with Military Honors. Pallbearers are Jason Hansbrough, Ryan Hansbrough, Robert Ruble, Garth Bowling, Lewis Jeter, and Mark Bowling.

Memorial contributions may be made to the American Cancer Society, P. O. Box 1032, Lexington Park, MD 20653.

Arrangements by Raymond Funeral Service, P.A. of La Plata, Maryland.