Miller, Mildred Mable
Birth: 1927-09-24 in Shoemakersville, Pennsylvania
Residence: Waldorf, Maryland
Death: Monday, July 02, 2012
Laid to Rest: Saturday, July 14, 2012 in the Cedar Hill Memorial Park, Allentown, Pennsylvania
Condolences: Click to View or Post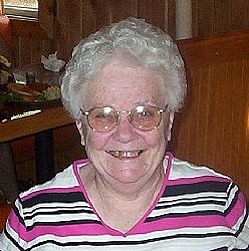 Mildred Mable Miller of Waldorf, MD died on Monday, July 2, 2012 at Charles County Nursing & Rehabilitation Center in La Plata, MD. She was 84 years old.
Daughter of the late William E. Engle and the late Mable Sarah Rubright Engle.

Mrs. Miller was a sewing machine operator for 30 years with Behleon Togs Company in Bethlehem, PA. She was a member of Calvary Gospel Church in Waldorf, MD and Central Assembly of God Church in PA where she was in charge of the Womens' Ministry and the Cradle Roll. She loved plastic/canvas art work and making calendars.

Predeceased by her parents and one late sister Marian Reppert.

Survived by her husband of 66 years Paul Miller, Jr.; one daughter, Donna Marie (Robert) Alan Bryan of Waldorf, MD; one brother William (Roseann) Engle of Reading, PA; and two sisters, Betty Reppert of Hanburg, PA and Joann (Ernest) Stine of Reading, PA.

Visitation: Tuesday, July 10, 2012 from 5-8PM with Funeral Service at 7PM at Raymond Funeral Chapel (5635 Washington Avenue, La Plata, MD 20646). Additional visitation and service will be held on Friday, July 13, 2012 and Saturday, July 14, 2012 at O'Donnell Funeral Home in Allentown, PA. Clergy: Rev. Mark Roberson. Interment: Cedar Hill Memorial Park in Allentown, PA.

Memorial contributions may be made to Calvary Christian College (11150 Berry Road, Waldorf, MD 20603).

Arrangements provided by Raymond Funeral Service, La Plata, MD and O'Donnell Funeral Home, Allentown, PA.