Return to the Obituary Announcements Main Page
Weir, Elois Jean
Birth: 1918-10-22 in Washington, DC
Residence: Waldorf, Maryland
Death: Sunday, July 15, 2012
Laid to Rest: Friday, July 20, 2012 in the St. Peterís Catholic Church Cemetery, Waldorf, Maryland
Condolences: Click to View or Post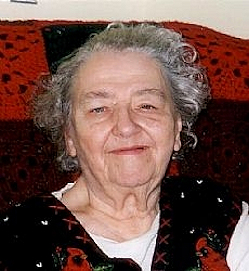 Elois Jean Weir of Waldorf, MD died on Sunday, July 15, 2012 at Genesis Waldorf Center in Waldorf, MD. She was 93 years old. Daughter of the late Ralph A. Cozzens and the late Elois Brett Cozzens.

Mrs. Weir was a homemaker and a member of St. Peterís Catholic Church in Waldorf, MD. She lived through the depression and survived the Spanish Flu epidemic of 1918 along with her mother. In earlier years, she taught English at Dunbarton Oaks Boarding School and later was a care-giver at senior housing homes in Prince Georgeís County. She took care of all her siblings following her motherís death in 1943. She loved reading, puzzles, and Bingo.

Predeceased by her parents; her late husband David Joseph Weir.

Survived by one son Robert Emmett Weir of Waldorf, MD; one daughter Rose Mary (Larry) Harley of Waldorf, MD; one sister Sister Rose of the Infant Jesus Carmelite Monastery in Philadelphia, PA; and two grandchildren Vania Butler and Jason Weir.

Visitation: Friday, July 20, 2012 from 9:30AM until Mass of Christian Burial at 10:30AM at St. Peterís Catholic Church (3320 St. Peterís Drive, Waldorf, MD 20601). Clergy: Monsignor Oliver McGready. Interment: Church Cemetery.

Memorial contributions may be made to The Alzheimerís Association (Greater Washington Chapter, PO Box 1889, La Plata, MD 20646).

Arrangements provided by Raymond Funeral Service.
Return to the Obituary Announcements Main Page