Brown, Nazerene
Birth: 1921-10-28 in Athens, Georgia
Residence: Lexington Park, Maryland
Death: Sunday, July 22, 2012
Laid to Rest: Saturday, July 28, 2012 in the Charles Memorial Gardens, Leonardtown, Maryland
Condolences: Click to View or Post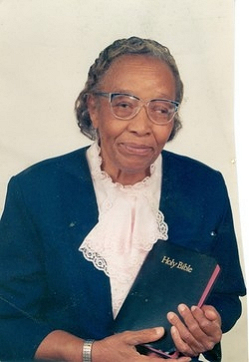 Nazerene Brown was born on Friday, October 28, 1921 to the late Rev. Fred D. Brown and Florence Bernard Brown in Athens, Georgia. Nazerene was the eldest of six children. Nazerene and her siblings grew up in a home with strong Christian principals. At an early age she accepted Christ as her Lord and Savior. She was educated in the public schools in Charlotte, North Carolina.

In 1947 Nazerene moved to Brooklyn, New York. During her stay in New York, she united with the Pentecostal Churches of the Apostolic Faith. She devoted her life to the service of God. She exemplified a true spirit of Christian love and dedication to spreading the word of our Lord and Savior Jesus Christ. She later was licensed and Ordained with Ministerial Credentials. Nazerene was a Traveling Evangelist, Preacher and Teacher. She lived a short while in Chicago and Washington, DC. Wherever she resided she was always active in Prison ministry.

In 1983 she moved to Lexington Park, Maryland where she continued her devoted service to spreading the word. For 22 years she served as a volunteer at the Chesapeake Shores Nursing Home. She taught Bible Study, played piano for Worship Services and ministered individually to the residents. She still found time for her Prison Ministry and her Church. Her deeds and devoted service will forever remain her legacy to those she helped, served and loved. Nazerene's entire life was spent giving of herself to others, even during her illness.

God blessed Nazerene with a long fruitful, exuberant life. Her saw her transitioning while praying reaching out to Him. He gently called her home on Sunday, July 22, 2012

Nazerene leaves to mourn her passing with cherished memories, one Brother, Willie Brown (Dorothea) of Philadelphia, PA; three Nieces, Elizabeth Miller (Robert Sr.), Thomasina Wilson, and Teressa Brown; one Nephew, Douglas Brown (Tiffany); four Great-Nieces, Lisa Miller, Mecca Brown, Aila Brown, and Maya Lassiter; three Great-Nephews, Robert Sr., Delano Miller (Tishema) and Nathan Wilson; Cousins Fred Johnson (Brenda), Gloria Sykes (Linwood), Douglas Plummer, and Myra Brown and a host of relatives, friends and extended family.

Family will receive friends Saturday, July 29, 2012 from 9:00 a.m. to 11:00 a.m. at the Living Hope First United Pentecostal Church, 46694 Midway Drive, Lexington Park, MD. 20653Services will be conducted at 11:00 a.m. by Pastor Jerald Staten. Interment will follow in Charles Memorial Gardens.

Arrangements by the Brinsfield Funeral Home, P.A., Leonardtown, MD.