Slack, Ruby Lee
Birth: 1934-03-13 in Norfolk, Virginia
Residence: California, Maryland
Death: Monday, July 23, 2012
Condolences: Click to View or Post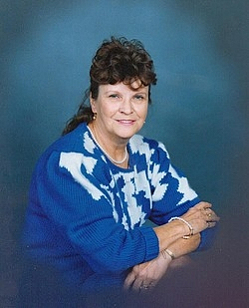 Ruby Lee Slack, 78, of California, MD passed away surrounded by her loving family on July 23, 2012 in Leonardtown, MD. Born on March 13, 1934 in Norfolk, VA she was the daughter of the late Toy and Stella Estell Allen.

Ruby is survived by her loving husband Charles E. Slack whom she married on June 27, 1964 in City Road Methodist Church, Elizabeth City, NC. Ruby is survived by her children; Steve Thompson of Bellingham, WA, Betty of Hattiesburg, MS, Crystal Moore of California, MD., and Donna Henderson of Easton, MD, 14 grandchildren, and 15 great grandchildren.

The family will receive friends on Thursday, July 26, 2012 from 9:30 AM – 11:00 AM, with a Funeral Service at 11:00 AM in the Mattingley-Gardiner Funeral Home, Leonardtown, MD with Deacon Bill Nickerson officiating. Interment will be private.

Contributions in memory of Ruby Lee Slack may be made to the Lexington Park Vol. Rescue Squad, P.O. Box 339 Lexington Park, MD 20653.

Arrangements provided by Mattingley-Gardiner Funeral Home.