Return to the Obituary Announcements Main Page
Geisert, Roy Joseph
Birth: 1952-09-20 in Hammonton, New Jersey
Residence: White Plains, Maryland
Death: Tuesday, August 07, 2012
Laid to Rest: Tuesday, August 14, 2012 in the Maryland Veterans Cemetery, Cheltenham, Maryland
Condolences: Click to View or Post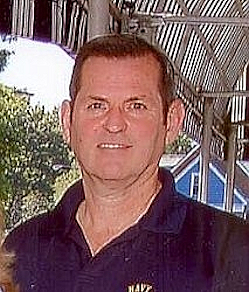 Roy Joseph Geisert of White Plains, MD died on Tuesday, August 7, 2012 at his residence. He was 59 years old.

Mr. Geisert was a chiropractor with Geisert Chiropracting in Waldorf, MD for 19 years. He was a veteran of the United States Navy, retiring as a Lt. Commander after serving from 1975 to 1994. He was an aeronautical engineer and a Navy Carrier Pilot. He was also an avid private aircraft pilot. He served as a coach with his children's athletic activities. He was a member of the American Legion Post in La Plata, MD and the Charles County Chamber of Commerce.

Son of the late Leroy Joseph Geisert and the living Betty Joan Geisert.

Predeceased by his father; a late son Eric A. Geisert.

Survived by his mother Betty Joan Geisert of Stillwater, NJ; his wife of 33 years Sheila L. Geisert; one son Andrew R. Geisert of White Plains, MD; one daughter Christina E. Geisert (Liam) Bresnahan of Owings, MD; and two brothers Douglas Geisert of NJ and Carl (Mylan) Geisert of AZ. Also survived by one grandchild Callum Geisert Bresnahan.

Visitation: Monday, August 13, 2012 from 2-4PM and 6-8PM at Raymond Funeral Chapel (5635 Washington Avenue, La Plata, MD 20646). Funeral Service: Tuesday, August 14, 2012 at 11:30AM at Raymond Funeral Chapel. Honorary Pallbearers: United States Navy Honor Guard. Clergy: Rev. Mark Roberson. Interment: MD Veterans Cemetery in Cheltenham, MD.

Memorial contributions may be made to Wounded Warriors Project (PO Box 758517, Topeka, KS 66675) and American Cancer Society (South Atlantic Division, 8219 Town Center Drive, Baltimore, MD 21236).

Arrangements provided by Raymond Funeral Service.
Return to the Obituary Announcements Main Page