Czzowitz, James Richard
Birth: 1938-04-07 in Bruin, Pennsylvania
Residence: Mechanicsville, Maryland
Death: Wednesday, August 08, 2012
Condolences: Click to View or Post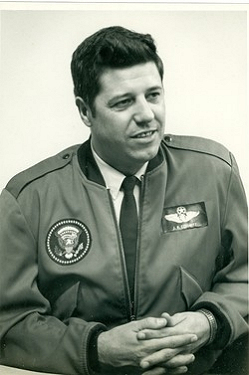 James Richard Czzowitz, 74, of Mechanicsville, MD passed away at his home on August 8, 2012. He was born on April 7, 1938 in Bruin, PA. He was the son of the late Peter and Mary Czzowitz.

James was in the Navy from 1955 to 1959, working in the capacity of crew chief. He then joined the Air Force in 1959. He was a flight mechanic on a Jet Star which carried dignitaries and Vice President Lyndon Johnson. James joined the Air Force One Crew in 1969. During his stint on Air Force One, they carried President Richard Nixon, President Gerald Ford, President Jimmy Carter, and President Ronald Reagan. When he retired in 1986, his title was Chief Flight Engineer, with the rank of Chief Master Sergeant.

After retirement from the Air Force, he flew with the crew for E. Bennett Williams from 1986-1989. In 1988 through 1994 he was the Flight Engineer/Manager on the Gulfstream II for United Food and Commercial Workers Union. In 1995 he was employed by the United States Post Office as a Sub Carrier. After leaving the post office position, he became self-employed, working for the United States Post Office.

James is survived by his son, Jerald R. Czzowitz (Donna) of Tucson, AZ; brother, Stanley Czzowitz, of Butler, PA, sister, Patricia Mook (Gerald) of New Castle, PA, sisters-in-law, Helga Czzowitz of Sierra Vista, AZ and Pat Wraith of Tuscon, AZ. He also leaves behind numerous nieces and nephews.

James was predeceased by wife of 19 years, Barbara A. Czzowitz, his parents, Peter and Mary Czzowitz, brothers, William Czzowitz, Thomas Czzowitz (Linda); sister, Catherine Feicht (Richard) and sister-in-law, Marilyn Czzowitz.

In lieu of flowers, Memorial Contributions may be made to: Hospice of St. Mary's, P. O. Box 625, Leonardtown, Maryland 20650 or the American Cancer Society 1041 Rt. #3 North Bldg. A, Gambrills, MD 21054.

Arrangements provided by Brinsfield Funeral Home.