O'Neil, William
Birth: 1952-02-19 in Washington, DC
Residence: Waldorf, Maryland
Death: Friday, August 10, 2012
Laid to Rest: Friday, August 17, 2012 in the Boyds Presbyterian Church Cemetery, Boyds, Maryland
Condolences: Click to View or Post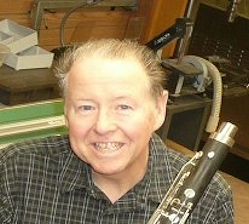 William "Bill" O'Neil, 60, of Waldorf, Maryland, died on August 10, 2012 at the University of Maryland Medical Center, Baltimore, MD. His courageous two year battle with leukemia exemplified a legacy of strength and will that those who knew him will never forget. Bill was born on February 19, 1952 to the late Marie Dorothy (Buckler) and Earl Aloysius O'Neil, in Washington, DC.

Bill and his family moved to St. Mary's county, when he was 8 years old. His parents started O'Neil's Music Center, located in Waldorf, MD, and Bill continued the family business. Bill could play any instrument, but his love was the guitar. Bill spent many years repairing and restoring musical instruments. He shared his passion for music with thousands of students over the years and cherished every minute of it. His life revolved around the school children who needed their instruments repaired. After 35 years, Bill sold the business, and continued to repair musical instruments from his home until four weeks ago, before his last hospital stay.

Bill also enjoyed traveling, camping, cooking and especially his four-legged pal, Disco. One of Bill's greatest attributes was his sharing and selfless nature. He always made sure everyone close to him was well taken care of. Bill will live on through the music he loved and the friends he made. He touched so many lives in a positive way. He will truly be missed but never forgotten.

In addition to his parents, Bill was predeceased by his daughter, Melissa and brother, James E. O'Neil.

He is survived by his wife, Carol Lyn (Burke) O'Neil, daughter, Melody A. O'Neil of Columbia, MD; brother, Don A. O'Neil (Sharon) of Clinton, MD; brother-in-life, Robby Davis (Kara) of Chantilly, VA; sister-in-law, Janet Lyons (Paul) of Mechanicsville, MD; brother-in-law, John A. Burke (Lisa) of Gaithersburg, MD; nieces, Cynthia McRoy (Tony) of Mechanicsville, MD; Jennifer Burke of Salisbury, MD, and Candace Rae O'Neil; nephews, Ryan Murray of Martinsville, West VA; Matthew Burke of Fairbanks, Alaska; RJ O'Neil; and great-niece, Erin McRoy of Mechanicsville, MD.

Family and friends will be received for Bill's Life Celebration on Thursday, August 16, 2012, from 2-4PM and 6-8PM at Brinsfield-Echols Funeral Home, P.A., 30195 Three Notch Road, Charlotte Hall, MD 20622. Funeral Services will be held on Friday, August 17, 2012, 10:00 AM at the funeral home. Pastor Clinton Sherrod will officiate. Interment will immediately follow at Boyds Presbyterian Church Cemetery, 19901 White Ground Road, Boyds, MD 20841-9460.

Pallbearers will be Scott Burton, Robby Davis, Paul Lyons, Anthony McRoy, Ryan Murray, and Marvin Van Dyke.

In lieu of flowers, contributions for a music scholarship, in memory of Bill may be directed to: Georgia Bennett c/o Community Bank of Tri County, P.O. Box 1810, La Plata, MD 20646.

Arrangements provided by Brinsfield-Echols Funeral Home.