Raley, J. Frank
Birth: 1926-09-13 in Park Hall, Maryland
Residence: St. Mary's City, Maryland
Death: Tuesday, August 21, 2012
Laid to Rest: Saturday, August 25, 2012 in the St. Michael's Catholic Church Cemetery, Ridge, Maryland
Condolences: Click to View or Post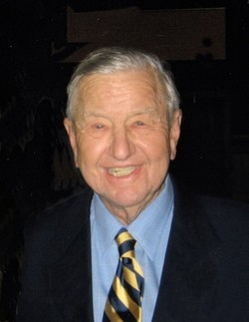 Former Maryland Senator J. Frank Raley, 85, of St. Mary's City died August 21, 2012, at his home.

Born September 13, 1926, in Park Hall, he was the son of J. Frank Raley Sr. and Ruth Zimmerly Raley. Never living more than 10 miles from his birthplace, he attended St. Mary's County parochial schools, Charlotte Hall Military Academy and later graduated from Georgetown University. He always looked back fondly to his early years growing up in his father's bar, known as Jay's Place. His lifelong love for hunting, walking in the woods and baseball started during this time. Locally known as a good baseball player, he played for St. Michael's and later The Hustlers, winning the St. Mary's County championship in 1951. Later in life, he always looked forward to the old-timers game in Ridge.

He grew up in a family of politicians and was drawn to politics at an early age. He served as a member of the Maryland House of Delegates from 1955 through 1959. From 1963 to 1966, he served in the Maryland Senate. As a state senator, he is largely credited with providing most of the infrastructure that was required to develop St. Mary's County. This facilitated bringing needed schools, roads and bridges to the growing county. He chaired the public buildings committee his entire Senate term.

Following his Senate term, he became a delegate to the 1967 Constitutional Convention of Maryland. He was also a former member of the Maryland Economic Development Committee and former president of the Lexington Park Maryland Chamber of Commerce. He also served on the St. Mary's County Planning and Zoning Commission, Tri-County Council for Southern Maryland and Chesapeake Bay Critical Area Commission.

As a member of the business community, he was the owner of J. Frank Raley Insurance, Inc. in Lexington Park and was a founding member of Maryland Capital Savings and Loan. He co-founded the Tri-County Council to move the regional Southern Maryland agenda to Annapolis. In recent years, he was a member of the Navy Alliance and Patuxent Partnership, helping to mesh the mission of the navy and the mission of the local community. His efforts were largely credited for the BRAC decisions that kept Patuxent River and St. Inigoes intact.

He was a longtime supporter of St. Mary's College of Maryland. In 1966, he helped turn the college into a four-year liberal arts institution. He served on the board of trustees for the college from 1967 to 1991. For his dedication to the college, he was awarded the college's highest honor, the Order of the Ark and Dove. In addition to the award, the college's dining hall in the campus center was officially named the Raley Great Room. An oil portrait hangs on the wall of the great room to honor the trustee emeritus. Always interested in democracy and education, he was instrumental in establishing the Center for Democracy at the college.

He also served as a member of the St. Mary's City Commission and served on the Task Force on Affiliation between Historic St. Mary's City and St Mary's College of Maryland. He was recognized for his contributions when he was awarded the Cross Bottony award in 1999. A steward of the environment, a pet project was re-establishing his farm in Scotland as a wildlife habitat, planting crops to lure birds and establishing hedgerows and borders for wildlife shelter.

He is survived by his stepson, John P. Cook Jr.; granddaughter, Julia P.C. Dobson; sister, Ruth D. "Peaches" Raley; and many nieces and nephews.

He was preceded in death by his daughter, Kathleen D. Raley; and his brother, William E. Raley.

Family will receive friends for Mr. Raley's Life Celebration on Friday, August 24, 2012 from 2:00 p.m. until 8:00 p.m. at St. Michael's Catholic Church, 16555 Three Notch Road, Ridge, MD 20680. Prayers will be recited at 7:00 p.m. A Mass of Christian Burial will be celebrated by Rev. Lee Fangmyer on Saturday, August 25, 2012 at 10:00 a.m. at St. Michael's Church. Interment will follow in the church cemetery.

Memorial contributions may be made to Hospice of St. Mary's, P.O. Box 625, Leonardtown, MD 20650.

Arrangements by the Brinsfield Funeral Home, P.A., Leonardtown, MD.