Hill, Annie Lee
Birth: 1916-02-15 in Alton, Virginia
Residence: Avenue, Maryland
Death: Wednesday, August 22, 2012
Laid to Rest: Saturday, August 25, 2012 in the Sacred Heart Catholic Church Cemetery, Bushwood, Maryland
Condolences: Click to View or Post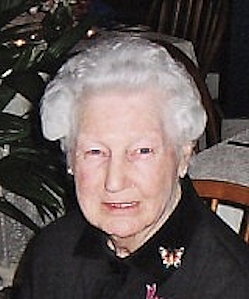 Annie Lee Hill, 96, of Avenue died August 22, 2012 at St. Mary's Nursing Center after a brief illness. Born February 15, 1916, in Alton, Virginia, she was the daughter of the late Joseph E. Pingleton and Elizabeth Clark Pingleton.

She was preceded in death by her husband, J. Wilmer Hill, sons, James W. (Billy) Hill and F. Desales Hill, son-in-law, Robert (Butch) Thompson, four brothers and three sisters.

She is survived by her children, Nancy Willis (Earl) of Waldorf, Myrtle Thompson of Bushwood, Clark Hill (Donna) of Cawtaba, NC, daughter-in-law, Margaret Hill of Kingman, AZ and Catherine (Kitty) Hill of Abell. She is also survived by 12 grandchildren, 18 great grandchildren and 3 great great grandchildren.

She enjoyed spending time with her family, friends and her grandchildren. For many years she attended the Senior Centers and participated in the Water Aerobics Classes held at the college in La Plata. She worked as a senior companion and was always more than willing to lend a helping hand to anyone in need. She enjoyed traveling and playing cards. She was a very dedicated member of the All Saints Episcopal Church where she attended for many years. "Miss Annie" as known by many, has touched many lives over the years and will be greatly missed.

The family will receive friends on August 24, 2012 from 5:00 PM – 8:00 PM in the Mattingley-Gardiner Funeral Home, Leonardtown, MD. A Funeral Service will be held on Saturday, August 25, 2012 at 10:00 AM in All Saints Episcopal Church, Avenue, MD with Rev. Kathleen Price officiating. Interment will follow in Sacred Heart Catholic Cemetery, Bushwood, MD. Pallbearers will be Bobby Thompson, Randy Hill, Patrick Farr, Brian Hill, Ricky Farr and Joey Pingleton. Honorary pallbearers will be her great grandchildren.

Memorial contributions may be made to Hospice of St. Mary's, P.O. Box 625, Leonardtown, MD, 20650 or All Saints Episcopal Church, P.O. Box 307, Avenue, MD, 20609.

Arrangements provided by Mattingley-Gardiner Funeral Home.