Phelps, Betty Buckler
Birth: 1930-02-21 in Prince Frederick, Maryland
Residence: Huntingtown, Maryland
Death: Monday, September 24, 2012
Laid to Rest: Thursday, September 27, 2012 in the Wesley Cemetery, Prince Frederick, Maryland
Condolences: Click to View or Post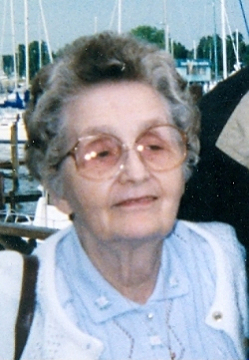 Betty Buckler Phelps, 82, of Huntingtown, MD passed away September 24, 2012 at Calvert County Nursing Center in Prince Frederick, MD. Betty, known as the "the sewing lady," was born February 21, 1930 in Prince Frederick to Alvin and Lillie (Jones) Buckler.

She was the last of ten children and has spent her entire life in Calvert County. She graduated in 1948 from Calvert High School and a few days later married Philip Howard Phelps (from Texas) on June 16, 1948. After they were married, they moved to Huntingtown, where she lived the remainder of her life. Betty was a very giving person who never asked for anything in return. She will be loved and missed not only by family, but all the people whose lives were touched by this remarkable woman.

Betty was known throughout the county for her sewing and alterations, always giving her customers excellent workmanship at an extremely fair price. She donated many hours of service to the police, sheriff and fire departments by sewing patches on their sleeves at no cost. Betty had a passion for bowling, watching the Orioles and Redskins, listening to country western music and riding her John Deere tractor. Betty always enjoyed having dogs in her house and even bred several types over the years. Most of all, Betty loved having her many relatives and friends stop by for a visit.

Betty was preceded in death by her parents, her husband of 52 years Philip Howard Phelps, sons Gregory Howard and Michael Wayne Phelps, brothers Stanley, Gorman, and Thomas Buckler and sisters Grace Humphreys, Marguerite Gettier, Thelma Trott and Lucille Wood.

She is survived by her sons Larry Phelps and wife Susan of Prince Frederick and Brian Phelps of Huntingtown, daughter Dianne Phelps of Huntingtown; three grandchildren, Mark Phelps and wife Heather of Edgewater, MD, Kevin Phelps and wife Kerry of Hanover, MD and Phillip Phelps of Sunderland, MD. Also surviving are three grandchildren, Ian, Maxwell and Caroline Phelps, and sisters Doris Buckler Hall and Helen Buckler Phelps.

Arrangements provided by Rausch Funeral Home.