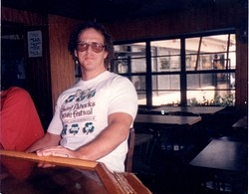 Kevin Thomas Flanary, 53, of Tall Timbers, MD, peacefully departed from this world that he so enriched on September 22, 2012. He was born March 22, 1959 in Leonardtown, MD to the late James V. Flanary and Dorothy Mae Carpenter Flanary of Lexington Park, MD.

Kevin graduated from Great Mills High School in 1976. He pursued an early interest in martial arts to the highest levels. At eighteen, his prowess and hard work were rewarded with the black belt from the Headquarters of the Okinawa Sorinryu Matsumara Orthodox Karate-Do. He joined the U.S. Air Force and served from 1977 to 1980 as an Aircraft Maintenance Specialist. After completing his military service, he worked for Northwest Airlines and Sikorsky Helicopter, among others, utilizing the skills he gained in the Air Force. On October 22, 1987, he married the love of his life, Germaine Burns Flanary. They will always be a part of each other.

He was never afraid of hard work, but he knew how to take it easy. His favorite methods of relaxation were barbequing and spending time with loved ones and friends, watching NASCAR and other sports, listening to music, and watching movies, particularly those of Toshiro Mifune and Bruce Lee.

After a long battle, extreme physical challenges made it impossible for him to continue working. His response was to work even harder, demonstrating how he faced adversity with grace and abundant good humor. Kevin didn't know the meaning of the word quit. He was never stronger than he was in his last years.

Kevin was a man of great physical strength with a proud list of accomplishments in martial arts. He was a student and a teacher, and will be remembered fondly by the friends who taught him and those who learned from him. More importantly, he was a man of astounding inner strength, who successfully lived out a philosophy of kindness, benevolence, and unselfishness, gaining a world of respect and affection from his family and friends. He was an inspiration to many. His memory is a gift to all who knew him.

In addition to his wife and his mother, Kevin is survived by his sisters, JoAnn Barclift (Curt) of Tall Timbers, MD and Debra Flanary Ford of Pompano Beach, FL; his brother, Robert Flanary (Anne) of Port St. Lucie, FL; his step-sons, Jim Busillo (Adria) of Oxford, PA and Matthew Busillo (Stephanie) of Lincoln University, PA; three grandchildren, Avery, Jayden and MacKenzie Busillo; his nephew, Jacob, his great-nephew, Tyler and his cat, Sam. He is also survived by two dear friends, who were like family to him, Brother Tom Crane and Kevin Garvey.

In addition to his father, he is preceded in death by his brother, Brian Flanary and his nephew, Antonio Flanary.

Memorial Contributions may be made to Tri-County Animal Shelter, 6707 Animal Shelter Road, Hughesville, MD 20637 and Second District Volunteer Rescue Squad, P.O. Box 1, Valley Lee, MD 20692.

A Memorial Service will be held at a later date.

Arrangements by the Brinsfield Funeral Home, P.A., Leonardtown, MD.