Fean, Kathleen Marie
Birth: 1921-05-14 in Richmond Hill, New York
Residence: Charlotte Hall, Maryland
Death: Sunday, September 23, 2012
Laid to Rest: Tuesday, October 02, 2012 in the Maryland Veterans Cemetery, Cheltenham, Maryland
Condolences: Click to View or Post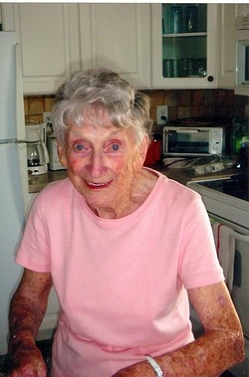 Kathleen Marie Fean, 91, of Charlotte Hall, Md, peacefully passed away on September 23, 2012. Born May 14, 1921 in Richmond Hill, N.Y., she moved to Maryland in the 1950s, and although she spent the remainder of her life in Maryland, she was always a New Yorker at heart. She was mom, grandma, great grandma, Sissy, and Kathleen to all who loved her and knew her, and she will be truly missed.

Kathleen was an active, talented, vibrant, and fiesty unique lady who worked as an administrative assistant for the Department of Agriculture until her retirement. She was a lifetime member of the 5th District Homemakers; a former council member at the Northern Senior Center; member of the Northern Senior Center Scarlett Ladies, and was also a member of the Ladies Auxillary of the Knights of St. John. She took pleasure in doing crafts, ceramics, and playing cards with her friends at the Senior Center; an avid reader, as a member of the book club at the Northern Senior Center, and she happily volunteered her time anywhere her smiling face was needed.

Kathleen was predeceased by her husband, Thomas Michael Fean; brothers, Thomas and James Tierney; sister, Mary E. Madden, and daughter-in-law, Linda J. Fean.

Her memory will be cherished by her family. She was the loving mother to to her son and daughter, Dennis T. Fean and Joanne C. Fean; grandma to T. Jason and Laura E. Fean, and great grandma to Kendall and Garrett Fean.

The family will receive friends for Kathleen's Life Celebration on Monday, October 1, 2012 from 4:00-7:00 p.m. at Brinsfield-Echols Funeral Home, P.A., 30195 Three Notch Rd., Charlotte Hall, Md., with payers at 7:00 p.m. A Mass of Christian Burial will be celebrated by Rev. David G. Wells on Tuesday, October 2, 2012 at 11:30 a.m. Immaculate Conception Catholic Church, 28297 Old Village Rd., Mechanicsville, Md., 20659. Interment will take place at Maryland Veterans Cemetery, Cheltenham, Md. on Tuesday, October 2, 2012 at 2:00 p.m.

In lieu of flowers, memorial donations may be made to Northern Senior Activity Center 29655, P. O. Box 653 Leonardtown, Md 20650.

Arrangements provided by Brinsfield-Echols Funeral Home.