O'Dell, James Archie
Birth: 1931-09-01 in Pulaski, Virginia
Residence: Huntingtown, Maryland
Death: Tuesday, October 09, 2012
Laid to Rest: Friday, October 12, 2012 in the Chesapeake Highlands Memorial Gardens, Port Republic, Maryland
Condolences: Click to View or Post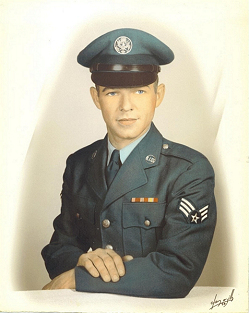 James Archie O'Dell passed peacefully at home surrounded by his wife and children on Tuesday, October 9, 2012. He was born at home in Pulaski, Virginia on September 1, 1931 to Laymon Lee Archie and Ruby Mae Kidd O'Dell.

He is survived by his wife of fifty-eight years, Rubylee. Eldest Daughter, Selma Lee, and husband, Lowell Jr.; Son, Laymon and his wife, Kathleen; and youngest Daughter, Priscilla. Granddaughter, Nicole and her husband, Billy Joe, and youngest Granddaughter, Erica. Great Grandchildren; Skylar, Gracee, Noah, and Liam. Surviving Sisters, Bonnie Jean, Peggy, Janice, and Brenda, their husbands and children. Brother in Law, George and his wife, Estelle, and children; Sister in Law, Ruth Ann and children; and Brother in Law Bernard.

His parents, and siblings, Lois Gale, Billy Joe and Mildred preceded him in death.

He was an Air Force Veteran serving from 1952 to 1966. An Automotive Mechanic for County Chrysler Plymouth; Maryland Tobacco Farmer; and self employed heavy equipment contractor. He was a Hunter Safety Instructor and Rifle Instructor for the 4-H Club of Calvert County, and a member of Calvert County Optimist Club and American Legion Post 85. Through all his years he exhibited great love for his family, country and God. His patriotic duty was never far from his mind as he followed current world changes in his later years. He will be remembered and loved as a great man to emulate.

Family will receive family and friends at Rausch Funeral Home, 4405 Broomes Island Road, Port Republic, MD 20676 on Thursday, October 11, from 2-4 and 6-8 pm. Funeral Services will be held at the funeral home on Friday, October 12 at 11:00. Burial will follow at Chesapeake Highland Memorial Cemetery, 3270 Broomes Island Rd, Port Republic, MD 20676.

In lieu of flowers, the family requests memorial contributions be made in Archie's honor to Calvert Hospice, 238 Merrimac Court, Prince Frederick, MD 20678.

Arrangements provided by Rausch Funeral Home.