Parks, Morgan Walter
Birth: 1923-04-14 in Capitol Heights, Maryland
Residence: Brandywine, Maryland
Death: Thursday, October 11, 2012
Condolences: Click to View or Post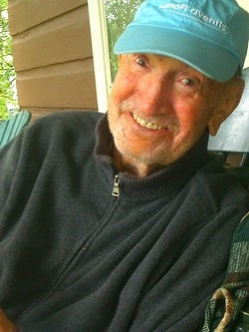 Morgan Walter Parks, 89, of Brandywine, MD, passed away October 11, 2012 at his residence. Born April 14, 1923 in Capitol Heights, MD, he was the son of William Jennings Parks and Julia Fowler Parks.

Mr. Parks was a hard worker and was an auto body repairman by trade. In his youth he served on the USS Alabama. Later in life he became a Jehovah's Witness. He loved meeting new people and talking about his faith.

He was preceded in death by his parents, brothers Neville T. Parks, Richard E. Parks, brother William S. Parks (unknown), sisters Patricia Parks, Barbara Parks, beloved wife Lucy Ann Minder Parks and granddaughter Michelle Branson Faiola.

He is survived by his sons, Thomas Allan Parks (Terry), Stephen Morgan Parks and Glenn Michael Parks (Karen); daughters, Alice Jane Buckley (Joe), Christina Vera Willett (Walter), Julia Ann Bowling (George), Diana Lynn Nicholas, Janet Sue Miller (Tom), Bonnie Ellen Hardesty (Ray) and Lucy Darlene Engelgau (Bert); 30 grandchildren, 46 great grandchildren with 2 more on the way and 2 great-great grandchildren .

A Memorial Service will be held on Saturday, Oct. 20, at 2 p.m. at the La Plata Kingdom Hall of Jehovah's Witnesses.

Arrangements are being provided by Brinsfield-Echols Funeral Home, P.A.