Herbert, James Stanley
Birth: 1947-04-25 in Washington, DC
Residence: Mechanicsville, Maryland
Death: Saturday, October 13, 2012
Laid to Rest: Thursday, October 18, 2012 in the Charles Memorial Gardens, Leonardtown, Maryland
Condolences: Click to View or Post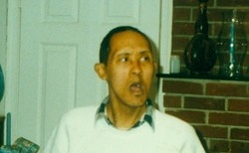 James Stanley Herbert, 65, went on to be with the Lord peacefully in his home in Mechanicsville, MD on October 13, 2012. He was born April 25, 1947 in Washington, DC to the late Stanley and Lillian (Thomas) Herbert.

James Attended the Center for Life Enrichment School. He started school in February 1981, where he was bright, intelligent, outgoing, fun, and more than a lovely person. One of James' favorite hobbies was to dance to music and sing. He also enjoyed his visits with his foster sister Sheila and eat food all day.

Aside from his parents, James is predeceased by his brothers Harry and William Herbert; and one foster brother, Spencer Edward Plater, Jr.

James leaves behind to cherish his memory, his foster mother and cousin, Margaret Plater whom he lived with since 1980; his foster brother and sisters, Eunice, Vanessa, Connie, Sheila, Faye, Jerry, James Ronnie, Bonnie, and Tracy; his one living aunt, Sarah Adams; his 3 nieces, Janice Person, Bernadette Tucker, and Lushious Meredith; 4 nephews, William Ronnie Plater, William, Harry and Tommy Herbert; his special caregivers, Jane Dotson, Patricia Hauk, Alvin Montgomery, Richard Dorsey, and William "Fuzzy" Gross; and many other relatives and friends.

Family and friends will be received for James' Life Celebration on Thursday, October 18, 2012, from 9:00 AM to 11:00 AM at Immaculate Conception Catholic Church, 28297 Old Village Road, Mechanicsville, MD 20659 where a Mass of Christian Burial will be offered at 11:00 AM . The Rev. Father David Wells will officiate. Interment will follow in Charles Memorial Gardens, 26325 Point Lookout Road, Leonardtown, MD 20650.

Arrangements provided by Brinsfield Funeral Home.