Return to the Obituary Announcements Main Page
Wolfe, Florence May
Birth: 1924-05-26 in Edinburg, Virginia
Residence: Prince Frederick, Maryland
Death: Wednesday, October 17, 2012
Laid to Rest: Thursday, October 25, 2012 in the Parklawn Cemetery, Rockville, Maryland
Condolences: Click to View or Post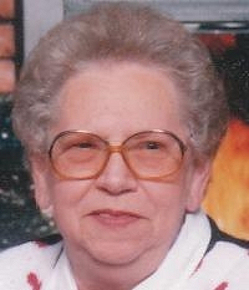 Florence "Flo" May Wolfe, of Prince Frederick, MD passed away on October 17, 2012 in Calvert Memorial Hospital at the age of 88. Flo was born in Edinburg, Virginia on May 26, 1924, to Hugh and Lizzie (Foster) Coffelt.

For 42 years, Flo was married to Cortland "Cort" Wolfe until his passing in 1989.

Flo worked at NIH for 14 years as a Phlebotomist and she was a member of the First Baptist Church of Upper Marlboro. She loved to travel and cook. Her homemade potato salad, cherry pies and cobblers and apple butter were legends for all who had the pleasure of experiencing them. Everyone looked forward to potluck meals, because they knew one of Flo's delicious dishes would be served.

She is the loving mother of Helen Smithson and her late husband Tommy; Cecil Wolf and his wife Wendy, Vicki White and her late husband David and Rick Wolfe and his wife Jean. She is the Grandmother of eight and Great-grandmother of four.

Memorial contributions may be made in Flo's name to the First Baptist Church of Upper Marlboro, 7415 SW Crain Hwy, Upper Marlboro, MD 20772.

Arrangements provided by Lee Funeral Home.
Return to the Obituary Announcements Main Page