Kaufmann, Robert W.
Birth: 1924-12-11 in Seat Pleasant, Maryland
Residence: Charlotte Hall, Maryland
Death: Friday, October 19, 2012
Laid to Rest: Wednesday, October 24, 2012 in the St. Mary's Catholic Church Cemetery, Bryantown, Maryland
Condolences: Click to View or Post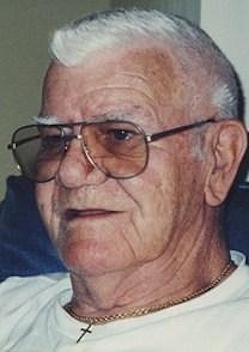 Robert W. "Bob" Kaufmann died October 19, 2012 at Charlotte Hall Veterans Home, at the age of 87. Mr. Kaufmann was born December 11, 1924, in Seat Pleasant, Maryland. He was the son of the late Charles Burrows and the late Johannah Fowler Kaufmann Burrows.

He enlisted in the US Navy on December 30, 1941 and served on the USS Andradic, USS Wharton and the USS George Clymer during WWII. He received the WWII Victory Medal, the American Area Campaign Medal, Asiatic Pacific Campaign Medal and the Good Conduct Medal. He retired from DC Government after 28 years of service in 1980 with DC Department of Environmental Services, Washington, D.C. He retired a second time in 1991 after working for the Department of the Army, Harry Diamond Laboratories, Woodbridge, Virginia in the Law Enforcement and Physical Security Division.

He volunteered and was active with the Southern Maryland REACT during the 1980's and was a CB radio enthusiast, loved Ocean City, Maryland and enjoyed hunting and fishing.

He married Eleanor Marie Gibson on October 10, 19543 in Chillum, Maryland.

In addition to his parents he was preceded in death by his wife of 55 years, Eleanor M. Kaufmann in 2009; his brother Fred Kaufmann, and a great-grandson, Odell lloyd.

He is survived by a daughter Judy Sager and husband Jeff of Shepherdstown, West Virginia; a son, Steve Kaufmann of Waldorf, Maryland; granddaughters: Cara Lloyd and Amanda Kaufmann, and three great-grandchildren: Izabelle, Orion and Adrian. He also leaves behind many beloved friends and caregivers at Charlotte Hall Veterans' Home in Charlotte Hall, Maryland. Mr. Kaufmann was of the Catholic faith.

Family will receive friends on Wednesday, October 24, 2012 at St. Mary's Catholic Church, Brayntown, Maryland from 10:00 - 11:00 am. where a Mass of Christian Burial will take place at 11:00 am. Burial will take place at the church cemetery.

In lieu of flowers memorial contributions may be made to the Alzheimer's Organization.

Arrangements being handled by The Huntt Funeral Home, 3035 Old Washington Road, Waldorf, Maryland.