Kilby, Rose Ann
Birth: 1934-11-21 in Capital Heights, Maryland
Residence: Mechanicsville, Maryland
Death: Wednesday, October 24, 2012
Laid to Rest: Wednesday, October 31, 2012 in the Fort Lincoln Cemetery, Brentwood, Maryland
Condolences: Click to View or Post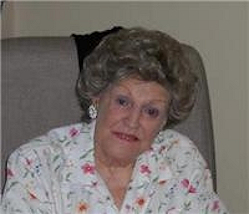 Rose Ann Kilby, 77, of Mechanicsville, MD died of a massive stroke from cancer at Med-Star St. Mary's Hospital on Wednesday October 24, 2012. Born November 21, 1934 in Capital Heights, MD., Rose grew up in Hillside, MD as the daughter of the late Joseph Michael and Helen Marie Burkhard.

Rose was a loving wife, mother and grandmother; taking care of her family was a priority. She loved oil painting, creating dolls, crafts, antiquing, and shopping. Rose and her family loved to travel across the United States and abroad. She enjoyed spending time with friends and family. Rose took pride in her appearance and would never miss her favorite show "Survivor".

In addition to her parents, she was preceded in death by her husband, George Kilby, of 58 years; siblings, Joseph M. Burkhard Jr., Ronald G. Burkhard and Loretta V. Burkhard; and children, James Kilby, Sandra Swartz, and George Kilby, Jr.

Rose is survived by her grandson, Heath James Tucker; great-grandson, Tavian Andrew Tucker; sister, Helen M. Coombs; 16 nieces and nephews; 21 great-nieces and nephews; and 29 great-great nieces and nephews.

Visitation will be held Tuesday, October 30, 2012 from 6-8p.m at Briscoe-Tonic Funeral Home Chapel in Mechanicsville, MD. and Wednesday, October 31, 2012 at 9:00 am until time of service at 10:00 am at Briscoe-Tonic Funeral Home Chapel. The Rev. Rob Greene will officiate. The Burial will take place at Fort Lincoln Cemetery, 3401 Bladensburg Rd., Brentwood, MD.

Arrangements by Briscoe-Tonic Funeral Home, Mechanicsville, MD.