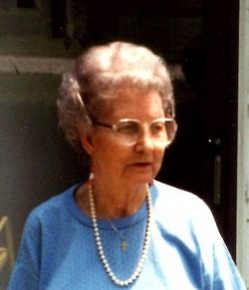 Martha Ann Farmer Jordan, 95 of Lexington Park, MD died February 26, 2013 at Chesapeake Shores Nursing Center. Born July 10, 1917 in Pulaski, VA, she was the daughter of the late Herbert Twitt Farmer and Florence Rosa (Bowman) Farmer and grew up on several farms in Virginia.

Martha married Raymond Matthew Jordan in 1940 and lived in Montgomery County, MD until 1992 when she moved to St. Mary's County. She lived with her son David until moving to Chesapeake Shores Nursing Center in 2008.

Martha worked as a homemaker most of her life except for the years when she operated the store at Whites Ferry. While Martha operated the store, her husband Raymond operated the ferry from 1946 until 1953. She enjoyed cross word puzzles and watching television.

Martha is survived by her son David Jordan of St. Mary's County; grandsons David, James and Daniel Jordan; great grandchildren, James B., Hannah, Hunter and Danielle Jordan; and sister, Mary Mae Farmer Grimes of Salem, VA.

In addition to her parents, Martha was preceded by her husband in 1988.

A graveside service will be held on Wednesday, March 6, 2013 at 1:00 p.m. at Union Cemetery, 323 N King Street, Leesburg, VA 20178.

Arrangements by the Brinsfield Funeral Home, P.A., Leonardtown, MD.