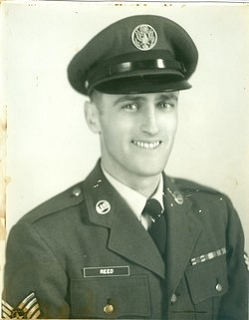 Hollis E. Reed 77 of Newburg, Md. died on February 27, 2013 in Waldorf, Md. He was born on October 22, 1935 in Ashland, Maine to the late Charles E. Reed and Eva Reed.

He is also predeceased by his son Mark E. Reed, brothers Charles E. Reed, Jr. and O'Neal Reed and his sister Elaine Richards.

He is survived by his wife Aileane Elizabeth Reed, sons Jonathan Hollis Reed of Mechanicsville, Md., Charles Everett Reed of Waldorf, Md., Walter Anthony Reed of Junior, WV., daughters Pamela Carol Livingston of Newburg, Md., Suzanne Michele Smith of San Diego, CA., sisters Phyllis Fitzsimmons of New Mexico, Joyce Greene of New Jersey, Eunice Reed of Kentucky, 15 grandchildren and 14 great grandchildren.

Mr. Reed is a retired Master Sergeant in the United States Air force serving from 1952 to 1974. After that he was an Aviation Ground Support Specialist for the Federal Government. He was a member of the Air Force NCO Association and VFW. He was a Scout Master of Troop 900 from 1979 to 1983. He was an avid coin collector and enjoyed Gardening, camping, wood crafting, and inventing things and was a jack of all trades.

The family will receive friends on Sunday from 1 to 3 PM with a service at 2 at the Arehart-Echols Funeral Home, 211 St. Mary's Ave., La Plata, Md. 20646. Interment to follow at a later date at the Maryland Veterans Cemetery, Cheltenham, Md. with Military Honors.

Memorial Contributions may be made to Hospice of Charles County.

Arrangements provided by Arehart-Echols Funeral Home.