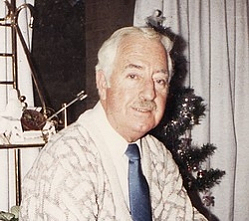 Joseph John Ferruzza, 84, of California, MD passed away surrounded by his loving family on February 28, 2013 in California, MD. Born on Mary 18, 1928 in South Fork, PA, he was the son the late Mariano and Mary Concetta LaRocca Ferruzza.

Joseph was the loving husband of Rosemary Jackson Ferruzza whom he married in St. Joseph's Catholic Church in Washington, DC on May 10, 1958.

Mr. Ferruzza is survived by his children; Joseph Ferruzza (Cathy) of Linden, VA, John Ferruzza (Karen) of Hughesville, MD, Jennifer Weisskopf (Kenny) of Mechanicsvill, MD, 4 grandchildren; Ryan Ferruzza, Brady Ferruzza, Emilee Weisskopf, and Allison Weisskopf. Mr. Ferruzza is also survived by his siblings; Samuel Ferruzza of Laurel, MD, Mary White of South Carolina, and Angelo Ferruzza of Frederick, MD.

Joseph was preceded in death by his son Michael Francis Ferruzza siblings; Josephine Policicchio, James Ferruzza, and Anna Amigh.

Mr. Ferruzza was a long time resident of St. Mary's County and was a retired Civil Servant.

The family will receive friends on Tuesday, March 5, 2013 from 5:00 PM ¬Ė 8:00 PM with prayers recited at 7:00 PM in the Mattingley-Gardiner Funeral Home Leonardtown, MD. A Mass of Christian Burial will be celebrated on Wednesday, March 6, 2013 at 11:00 AM in St. John's Catholic Church Hollywood, MD with Father Raymond Schmidt officiating. Interment will follow in the church cemetery.

Contributions may be made to the Hollywood Volunteer Rescue Squad, P.O. Box 79 Hollywood, MD 20636.

Arrangements provided by Mattingley-Gardiner Funeral Home, Leonardtown, MD.