Current Stories:
[ More Current News Stories... ]

News Archive: [ 2013 ] [ 2012 ] [ 2011 ] [ 2010 ] [ 2009 ] [ 2008 ] [ 2007 ] [ 2006 ] [ 2005 ] [ VFD News ]

Other News Sections:

Announcements:
Forums: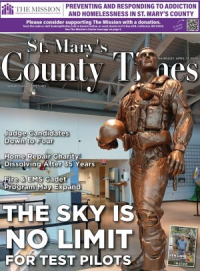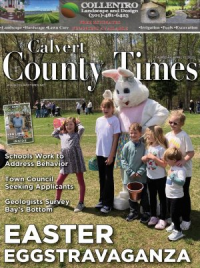 Posted on August 05, 2007
So. Maryland High School Crew Wins C/D Class; USNA's Zaraffa Wins A-O Class, Brings Home Patuxent Partnership Trophy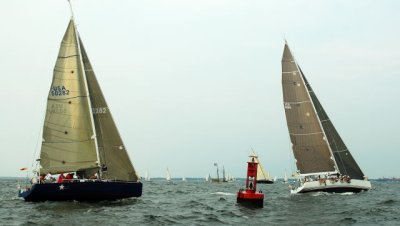 The Naval Academy's entry just crossed the start line. The race started at 6 p.m. on Friday in Annapolis with waves that built to 5 feet and a 15-20 knot wind from the south. Boats cross the start line based on their class. The start line is the imaginary line between the red buoy in the foreground and the replica ship Sultana in the background. (Click photo for higher res.) Photo by David Noss.

ST. MARY'S CITY, Md. (Aug. 4, 2006) - Adversity training was how one captain summed up the 34th running the of the Governor's Cup yacht race today. The race, sponsored by St. Mary's College of Maryland, was called a "good hard race" with a washing machine start and a slow finish. The annual race attracted 150 boats this year with a course from Annapolis to St. Mary's City.

For the first time in Governor's Cup history, the U.S. Naval Academy's team was the first to cross the finish line, arriving at 3:34 a.m. On a new boat, Zaraffa, the Navy team beat the course record holder Donnybrook by 1 hour and 15 minutes. The USNA team was captained by Jahn Tihansky. Donnybrook, captained by Jim Muldoon, still holds the course record of 6 hours, 9 minutes, set in 1993.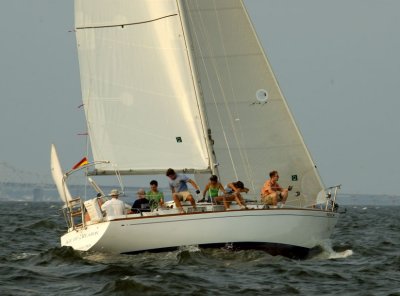 Onboard Age of Reason, sailors from Leonardtown and Patuxent High Schools won the C/D class. Shown just before the start of the race. Photo by David Noss.

In another first, an all-high school crew from Southern Maryland won in their class. Onboard Age of Reason, sailors from Leonardtown and Patuxent High Schools won the C/D class. Their boat is a centerboard model 1978 Bristol 355 captained by their coach Stovy Brown of St. Leonard, Maryland. Brown's winning tactic was to stay on the Western Shore until the tide shifted. Brown thanked the College for allowing high school sailors to practice on the College's boats on Friday afternoons. The College's sailing team also volunteers to coach the high school teams.

Sam Carter, a '07 graduate of Patuxent High and Michael Steep of Leonardtown High were part of the crew. Carter said, "It is all about preparation at practice. We worked hard and had five sets of sails to change, but we stuck with our game plan and it worked." The high school students had to make one spinnaker halyard change just before the finish line.

"The first four hours of the race were adversity training for me," said Randall Richter of Arnold, Maryland, "here is where preparedness meets opportunity." Richter is captain of Pressure Drop, in the A-2 class. Richter's team included his son, Warren, who is a student at SMCM and member of the College's offshore sailing team. The College's team was not able to compete this year because their boat was struck by lighting the week before.

The race started at 6 p.m. on Friday in Annapolis with waves that built to 5 feet and a 15-20 knot wind from the south. During the evening, gusts up to 23 knots were reported. Towards dawn the winds died down, making for a slow spinnaker run up the St. Mary's River. "We try to make this race a sailor's race, and this weather was challenging for all of us," said Jim Muldoon, skipper of the Donnybrook and Chairman of the SMCM Board of Trustees.

Returning to the race for the second year was Ben Collins, of Rockville, Maryland. Collins is a Special Olympics sailor who is blind and developmentally disabled. Last year, Collins crewed on Donnybrook in calm seas with a northerly wind. After this year's rough seas, Collins said, "it was like being in a pin ball machine."

Also sailing onboard Donnybrook was Megan Cooper of Montgomery County, Maryland. Coo-per is a 23 year old Special Olympics gold medalist in sailing who will be representing the United States in the Special Olympics World Games in Shanghai, China, this October. This was Cooper's first offshore race and kept smiling as she was "baptized on the rail" in the rough seas.

David Andril of Arlington, Va, and his crew onboard Valkyrie (PHRF A1) took home the Waldschmitt Award for the best in fleet. The most competitive of the trophies, this award is presented to the winner of the class having the smallest corrected time interval between the first- and fifth-place finishers.

Michael Brennan from Potomac, Md. and captain of Sjambok (PHRF A0) won the Alumni Trophy. To be eligible for the Alumni Trophy, two or more members of the boat's crew must be St. Mary's College of Maryland alumni. The award is presented to the yacht with the highest percentage score, which is computed by dividing the number of boats defeated in a class by the number of boats registered in the same class.

David Way from Shady Side, Md. who captained Trinity (Multihull) was honored with the Bickell Award, named for a racer who lost his life in a tragic accident sailing in the 1994 Governor's Cup. The trophy is awarded to the skipper and crew whose finish position shows the most improvement over last year's performance. The skipper must have commanded the same boat both years. "The Bickell Award is a fitting memorial for a man who enjoyed no greater challenge than making a boat and its crew into a winning combination," said Torre Meringolo, vice president for the SMCM Office of Development.

The Patuxent Partnership (TPP) trophy was awarded to the captain and crew of Zaraffa (A0) from the United States Naval Academy in Annapolis. To be eligible for the trophy, a boat's crew must include two employees from a TPP-member company, active-duty military, or DoD civilian personnel, and have the highest-class finish by a TPP boat.

The results of SMCM Governor's Cup Race are as follows, in order from first to third: (Performance Handicap Racing Fleet (PHRF) ratings are based on the speed potential of the boat. Handicaps are adjusted as needed on the boat's performance so that each well-sailed boat has an equal opportunity to win.)


Racing Class: Multihull Corrected
Rank
Boat Name
Skipper
Hometown
Elapsed Time
1
Trinity
David Way
Shady Side, MD
14:04:29.5
2
Fitness Resource
David Ness
Fairfax, VA
14:16:59:1
3
Wild Card
Tim Layne
Glen Burnie, MD
No Time
Racing Class: PHRF A-0 Corrected
Rank
Boat Name
Skipper
Hometown
Elapsed Time
1
Zaraffa
US Naval Academy
Annapolis, MD
11:14:50
2
Sjambok
Michael Brennan
Potomac, MD
12:03:17
3
Upgrade
Neff Gibbons
Rosemont, PA
12:13:24
Racing Class: PHRF A-1 Corrected
Rank
Boat Name
Skipper
Hometown
Elapsed Time
1
Valkryie
David Andril
Arlington, VA
11:58:07
2
Windborn
Rick Born
Baltimore, MD
12:10:28
3
Flying Jenny V
David Askew
Annapolis, MD
12:11:26
Racing Class: PHRF A-2 Corrected
Rank
Boat Name
Skipper
Hometown
Elapsed Time
1
Pressure Drop
Randall Richter
Arnold, MD
12:19:39
2
Airmail
Tom Carrico
Arnold, MD
12:22:16
3
Ravenous
Ed Poe
Towson, MD
12:32:01
Racing Class: PHRF A-3 Corrected
Rank
Boat Name
Skipper
Hometown
Elapsed Time
1
Kristany
Glenn Harvey
Riva, MD
12:33:38
2
Bingo!
Sean Callahan
Oxford, MD
12:50:29
3
Incommunicado
Ed Tracey
Severna Park, Md.
13:05:27
Racing Class: PHRF B-1 Corrected
Rank
Boat Name
Skipper
Hometown
Elapsed Time
1
Torch
Paul Scott
Jarrettsville, MD
14:07:29
2
Smoky
Gary Shaw
Chevy Chase, MD
14:30:45
3
Valkyrie
Mike McDonough
Annapolis, MD
14:54:51
Racing Class: PHRF C/D Corrected
Rank
Boat Name
Skipper
Hometown
Elapsed Time
1
Age of Reason
G.S. Brown
St. Leonard, MD
14:42:04
2
Windemere
Ted Diehl
Baltimore, MD
16:57:47
3
Finn
Andrew Eyring
not given
17:22:27
Racing Class: PHRF N Corrected
Rank
Boat Name
Skipper
Hometown
Elapsed Time
1
Southern Cross
Bill Roos
West Chester, PA
15:21:16
2
The Doghouse
Dan Shannon
Leonardtown, MD
16:51:15
3
Evil Waves
Mike Madden
Annapolis, MD
17:51:11