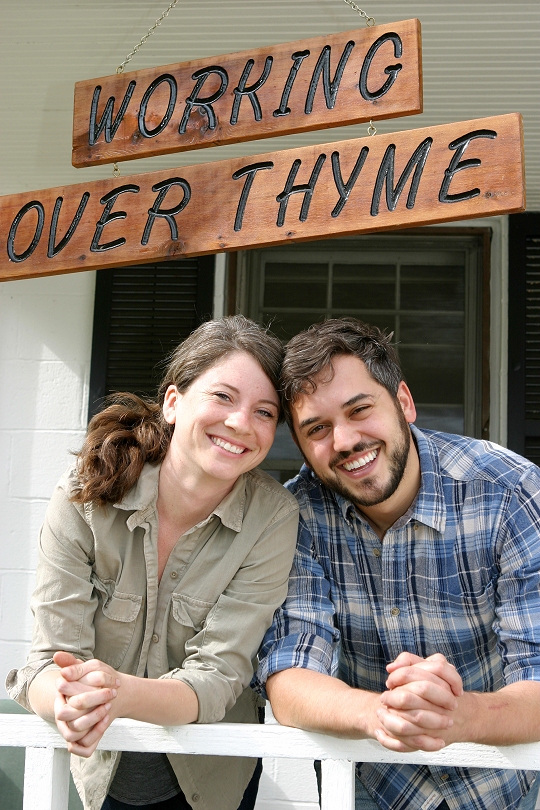 Ross Margulies and Leah Puttkammer at their starter farm in Brandywine, Working Over Thyme. (Photo: SMADC)
HUGHESVILLE, Md.
(April 12, 2017)—"Tomorrow's Harvest: Beginning Farmers Tell Their Stories," a project by the Southern Maryland Agricultural Development Commission (SMADC) designed to showcase the varied faces of new farmers in Maryland and the value of mentorship in agriculture, has released a new series of interviews featuring six farmers.
Participants were drawn from Maryland FarmLINK's Mentor Match program, which pairs new farmers, including farmers branching into new types of farming, with an experienced farmer with relevant expertise.
The project highlights the rich diversity of Maryland agriculture that is evolving to replace the centuries-old, single-crop (tobacco) model, as well as the varied backgrounds of those embarking on new farm careers today. Highlighted farms range from a flower farm in inner-city Baltimore to a produce farm on the banks of the Patuxent River in Brandywine. Participants are varied as well. Some are young entrepreneurs building a first business. Others turned to farming mid-career.
John laquinta teaches career skills at a nonprofit that provides assisted living and vocational opportunities to individuals with developmental disabilities in Anne Arundel County. He is the driving force behind creating Langton Green Community Farm, a place where developmentally disabled adults make up most of the workforce. He got the idea after visiting a vocational program on a farm in California.
"I was receptive to this [concept] because it was exactly what I wanted to be doing personally," said laquinta, who had to quickly learn many new farming skills as he worked to get the new farm up and running. "I had a 15-page business plan on my boss's desk a week later. I knew that we could really do this."
laquinta credits his mentor, Scott Hertzberg of Jug Bay Market Garden, with being instrumental in setting up the farm. "Scott came out to the farm and it was wonderful to have a sounding board to walk through and tell us if what we wanted to do made sense. We were purchasing equipment so it was helpful to ask him what size, what attachments were necessary, what made sense as an equipment package."
A theme that arises across many of the "Tomorrow's Harvest" stories is the innovative ways new farmers acquire farmland today.
One story chronicles an unusual suburban farm spread across multiple lots, including fields in neighboring back yards. "We like to call this 'creative reuse of suburban land'," said Jason James, co-owner of Moon Valley Farm. It's a non-traditional way to acquire farmland, but the business is thriving. "I am an opportunist," said James. "As farmers, I think we have to be."
Another new farmer, Walker Marsh, carved out farmland by reclaiming adjoined abandoned lots in the Broadway East neighborhood in Baltimore. "We had to consolidate the 13 lots on this half-acre I'm farming, and that took forever," said Marsh. "You have to approach farming different in the city."
Priscilla Wentworth, program director for Maryland FarmLINK and the Mentor Match program, is instrumental in pairing the new farmers with mentors, and feels that mentorship is an important resource for new farmers.
"Programs like the Mentor Match are in place to keep farming alive in our region," said Wentworth. It's encouraging to see people choose farming as a career, not just young people, but those of all ages. The people in these stories are the future of farming, and they are all creative and smart, and really interesting to listen to."
The beginning farmer stories can be found at
www.smadc.com/NewFarmerStories
.
The Mentor Match program accepts applications on a rolling basis. Details can be found on the website, or by contacting SMADC.