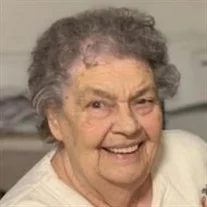 Hella Meta Stokes (Goertz) of Prince Frederick, MD passed away peacefully on Tuesday, April 27, 2021. Hella was a beloved sister, mother, grandmother, and great grandmother. Hella was born April 22, 1940 in Oldenburg, Germany to Kurt and Ella Goertz. She was the youngest of four children.

Hella came to the United States in 1960 and married the love of her life, Larry A. Stokes. Together they had three children: Larry, Raymond, and Catherine, whom they raised in Cheverly, MD. Hella had various jobs throughout her life, but she felt her most important ones were being a wife and a mother. In December 1991, her life changed when her husband passed away suddenly. Hella was a strong woman who adjusted to her new life with courage and determination. In 2002, Hella moved to her new home at Chapline House in Prince Frederick, MD.

Throughout her life, Hella was a highly active member of the community and involved in various groups including Boy Scouts, Girl Scouts, working at the local pool, serving on the Cheverly Day committee, involved in the PTA at St. Ambrose School, and serving at St. Ambrose Catholic Church. Upon moving to Chapline House, Hella made many friends and enjoyed the various activities and events hosted there, including bingo and playing Wii bowling with fellow residents.

Hella was an independent, outgoing, loving, caring, strong-willed woman who loved her children, grandchildren, and great grandchildren. She enjoyed spending time with her family, and they meant everything to her. Her other love in life was bingo – she could often be found at the Optimist Club Bingo in Owings, MD dabbing multiple cards with her family beside her.

She was preceded in death by her husband Larry A. Stokes, her parents Kurt Waldemar and Ella Dora Goertz, and siblings Ludwig Goertz and Ursula Kayser. Left to cherish her life and memories, are her children, Larry Kurt Stokes (Chrissi), Raymond George Lewis Stokes, and Catherine Ella Scott (John); grandchildren Joshua (Amanda), Jacob (Amy) Scott, Raymond Jr., Christopher, Jeannie, Caitlin , Steven, Mathew Stokes and Kylee Horner; three great grandchildren, Daniel, Logan and Ryleigh Scott; her sister Marga Gray, nieces, nephews and many other friends and family.

The family will receive friends at Lee Funeral Home Calvert, 8200 Jennifer Lane, Owings, MD 20736 on Monday, May 3, 2021 from 2:00 PM - 4:00 PM and 6:00 PM – 8:00 PM. A Funeral Service will be held on Tuesday, May 4, 2021 at 10:00 AM in the Funeral Home Chapel. Interment will follow at Parklawn Memorial Park Cemetery, 12800 Veirs Mill Road, Rockville, MD 20853.

NEW GUIDELINES FOR ATTENDING VISITATION / SERVICES.
- 100 to 150 people max at any given time in Funeral Home.
- Funeral Services in Chapel limited to 100 people with five to six (5 to 6) people per pew.
- Masks and social distancing still applies.